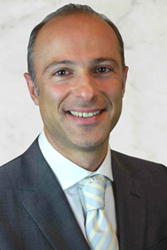 Being recognized as a Super Doctor is always an incredible honor, and this year is no exception.
Beverly Hills, CA (PRWEB) April 25, 2014
Los Angeles urologist Kiarash Michel, MD, has been named one of Southern California's Super Doctors for 2014, making it the fifth consecutive year he has been awarded the honor.
"Being recognized as a Super Doctor is always an incredible honor, and this year is no exception," says Dr. Michel. "I'm lucky to have such wonderful colleagues, staff, and patients. Without them, this wouldn't be possible."
The number of doctors who receive the Super Doctor award is limited to approximately five percent of the region's active physicians. Each year, Key Professional Media undertakes a rigorous multi-phase selection process that includes a survey of doctors, independent evaluation of candidates by the research staff, a peer review of candidates by practice area and a good-standing and disciplinary check. As a part of this evaluation, physicians are asked to consider the following question: "If you needed medical care in one of the following practice areas, which doctor would you choose?"
"This award is an enormous honor, and I'm grateful to have been recognized for five years in a row," says Dr. Michel. "At Comprehensive Urology, we work hard to provide patients with incredible help and support, and I'm happy to see that we've made a great impression on others."
Kia Michel, MD is the director of robotic and minimally invasive surgery at Comprehensive Urology. He is recognized as one of the leading urologists in Los Angeles, and is highly sought after by patients nationally and internationally. Given his expertise in robotics, minimally invasive surgery, prostate cancer treatment, and kidney cancer treatment, Dr. Michel is frequently called upon by other urologists and specialists to treat their most complex patients.
Dr. Michel graduated from Whitman College where he was a Presidential Scholar for four years before attending the University of Washington School of Medicine, where he graduated with Honors and was recognized by the National Medical Honor Society (AOA). Dr. Michel then completed a prestigious six-year residency program in Urologic Surgery at UCLA, where he was recognized as a Pfizer scholar in Urology. After residency, Dr. Michel completed a fellowship in Urological Oncology and advanced surgical techniques also at UCLA. During his fellowship, Dr. Michel's efforts were recognized by the American Cancer Society, the National Cancer Institute and the American Foundation for Urologic Disease.
Comprehensive Urology is a renowned urological practice in Los Angeles that provides state of the art urological care in a personalized and compassionate environment. The physicians at Comprehensive Urology are board-certified urologists with specialty training in a number of different aspects of urology and provide tailored care for their patients with outstanding results. Call them today at (310) 278-8330 or visit their website: http://www.comprehensive-urology.com/.