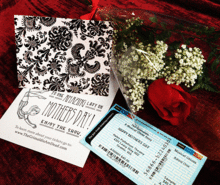 'Brown Paper Tickets is the only ticketing company that offers the ability to provide tickets nestled in a Mother's Day card,' Ballard said. 'They are the best choice for creativity and customization in live events.'
Seattle, WA (PRWEB) April 25, 2014
Mother's Day is May 11, and Dane Ballard Productions has come up with a new way to surprise mom with the gift of theatre tickets delivered in a special Mother's Day card that is themed to the show. Gift-givers can purchase tickets to the mom-friendly Seattle theatre event, "The Grimaldis," at http://www.brownpapertickets.com/event/577891, or by calling Brown Paper Tickets' 24/7 event concierges toll-free at 1-800-838-3006. Mother's Day cards mailed directly to mom that include one ticket to "The Grimaldis," passed appetizers at the show and a single rose presented to her at the event is $40. Any number of additional tickets can be purchased and enclosed in the same card.
"Like the celebrated 'Tony and Tina's Wedding,' 'The Grimaldis' is an audience-immersion theatrical event that can feel more like a reality show, enjoyable to a wider range of people than a typical staged performance," said Dane Ballard, writer and producer of the event. "Surrounded by aerialists, musicians, magicians, comedians, dancers and more, this show is a spectacle designed to engage the five senses, for people of all ages to enjoy, together."
"Theatre amuse-bouche," a French term meaning "theatre that entertains the mouth," is a show that engages the senses by including tastes of delicious hors d'oeuvres as a part of the audience's interaction with the performance. The appetizers will be created by Hale's, and served by the characters as if each audience member is at an auction of a home owned for several generations of a family of gifted perfomers. The ghosts of ancestors past come back for the final performance in the Grimaldi homestead. "The Grimaldis may be dead, but the show (and the party) must go on," Ballard said.
"Tickets to the show delivered in a Mother's Day card make a thoughtful gift," Ballard said. "This show is one that can be enjoyed alone, as a couple, with a large group of friends, or as a treat for mothers and their sons or daughters to experience together."
"The Grimaldis" is written and produced by Dane Ballard and the show's original music and lyrics were composed by veteran composer John Woods. "The Grimaldis" cast and crew are led by director Kerry Christianson and music director Ben Dobyns. Photos, bios, credits for all performers and more information can be found at http://www.TheGrimaldisAreDead.com.
"Brown Paper Tickets is the only ticketing company that offers the ability to provide tickets nestled in a Mother's Day card," Ballard said. "They are the best choice for creativity and customization in live events."
Tickets shipped in Mother's Day Cards should be ordered by Wed., May 7, in order to reach mom in time for the big day.
###
About The Grimaldis (http://www.TheGrimaldisAreDead.com): a production of Dane Ballard Productions, The Grimaldis is an original piece of audience immersion theater, popularized by Tony and Tina's Wedding. Designed to stimulate all five senses, tickets include passed appetizers and incorporate interaction with the performers. Tickets to the show's limited engagement at Hale's Palladium, May 16-24, can be mailed tucked into a Mother's Day card, making Mother's Day gift-giving a click or a phone call away.
About Brown Paper Tickets (http://www.BrownPaperTickets.com): Brown Paper Tickets is a socially conscious global leader in online ticketing and event registration services, helping people in 68 countries to plan, promote and sell out events. As a social innovator, the company donates 5 percent to charities with every ticket sold, supports a team of full-time community advocates, called "Doers," and still charges a ticketing fee that is lower than competitors. How do we do it? The dirty little secret in the ticketing industry is that it doesn't cost that much to ticket events. To learn more about the world's only Not-Just-For-Profit ticketing company, visit http://community.brownpapertickets.com/press/.