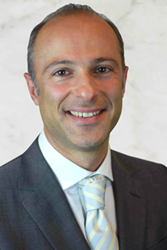 Testicular cancer is the most common cancer in males between the ages 15 and 35.
Beverly Hills, CA (PRWEB) May 01, 2014
Recent news that a 21-year-old's life was saved thanks to the popular social media site Reddit underscores how testicular examinations can have a substantial – and potentially life-saving – effect on patients of any age.
Taylor "Chase" Tyree was browsing Reddit when he read a post from another user, who spoke about his experience with being diagnosed with testicular cancer and the removal of his affected testicle. Realizing that he suffered the same symptoms described online, Tyree went to the doctor, where it was determined that he had a cancerous mass in his left testicle.
"Testicular cancer is the most common cancer in males between the ages 15 and 35," says Kia Michel, M.D., a highly-accomplished urologist at Comprehensive Urology in Beverly Hills. "Tyree's story illustrates the need for males to be screened for this disease, as it can be highly treatable if diagnosed early."
Just four days after seeing his doctor, Tyree had surgery to remove his left testicle. After a few weeks of recovery, Tyree is expected to fully recover and to continue to live a normal, healthy life.
"With proper treatment, men with testicular cancer can continue to live healthy lives," says Dr. Michel. "In some cases, fertility issues aren't a problem, even after the removal of the testicle. As with all cancers, the best way to treat testicular cancer is by being screened early and often.
"In addition, men should check for any unusual lumps or abnormalities by performing self-examination," continued Dr. Michel. "Everything helps when it comes to diagnosing and treating testicular cancer."
Kia Michel M.D. earned his medical degree at the University of Washington School of Medicine and completed his residency at UCLA. He has also been recognized as a National Pfizer Scholar. As one of the founding members of the reputable Comprehensive Urology Medical Group, located in the Cedars-Sinai Medical Towers in Los Angeles, California, Dr. Michel treats a host of urologic diseases. One of the few urologists who is both an acclaimed cancer and robotic surgeon, Dr. Michel is a compassionate doctor who has dedicated his career to providing state-of-the-art care for his patients with a warm, nurturing touch.
Comprehensive Urology is a renowned urological practice in Los Angeles that provides state of the art urological care in a personalized and compassionate environment. The physicians at Comprehensive Urology are board-certified urologists with specialty training in a number of different aspects of urology and provide tailored care for their patients with outstanding results. Call them today at (310) 278-8330 or visit their website: http://www.comprehensive-urology.com/.