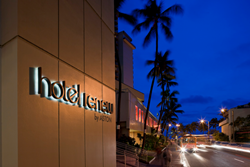 Honolulu, HI (PRWEB) April 24, 2014
Step into Hotel Renew by Aston's Lounge Renew and enjoy a fresh lineup of premium signature cocktails – with the first round on us.
The designer boutique Hotel Renew by Aston is offering each guest age 21 and over a complimentary signature cocktail as part of its newly launched enhanced amenity program, Club Renew. Each cocktail is handcrafted with ingredients that reflect Hawaii's unique tropical flavors. Try a popular adaptation on the classic mai tai with golden rum, pineapple lime, grapefruit and almond syrup; a lychee-tini with infused vodka and lychee; or a refreshing pineapple mojito – a tropical spin on the original, with golden rum, fresh mint, pineapple and lime.
All premium cocktails are made from the freshest ingredients, from herbs to fruits. Lounge Renew also offers a selection of Hawaii craft beers; as well as red and white wines. With a daily happy hour from 5:30-7:30 p.m., it's easy to enjoy some of the best cocktails in Waikiki.
Available only to guests of Hotel Renew by Aston, Club Renew provides access to an exclusive array of perks, including a mobile concierge service, daily continental breakfast, access to two resort pools and a full-service fitness facility, beach gear, wireless Internet and more. Visit http://www.hotelrenewbyaston.com or call (866) 774-2924 to book your vacation.
About Hotel Renew by Aston
Hotel Renew by Aston is a one-of-a-kind property that offers sophisticated serenity throughout its
72 freshly designed rooms. Situated at the center of Waikiki's vibrant shopping and dining area, the boutique hotel is a retreat that promotes wellness and rejuvenation with natural elements reflecting the beauty of Hawaii. Enjoy the personalized service and special amenities offered by the hotel's intimate surroundings, and step into modern tranquility at Hotel Renew by Aston.
About Aston Hotels & Resorts
Aston Hotels & Resorts operates a diverse range of condominium resorts and hotels with accommodations from hotel rooms and condominium suites, to villas and cottages that suit any lifestyle, taste or budget. Based in Honolulu, the company manages over 4,100 units in 27 properties on the four major Hawaiian Islands, South Lake Tahoe, California, Lake Las Vegas, Nevada, and Orlando, Florida. For more information, visit http://www.AstonHotels.com or call toll free 866-774-2924.