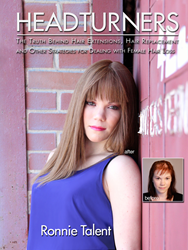 Over 21 million women suffer from hair loss in the US alone.
(PRWEB) April 26, 2014
Legacy Hair Center today announced the release of "Headturners - The Truth behind Hair Extensions, Hair Replacement, and other strategies for dealing with female hair loss" by owner Ronnie Talent, illuminating new technological breakthroughs to millions of women with thinning hair.
"I've seen close to 15,000 people with hair loss," says Talent, who has worked with industry giants Bosley Medical Group and Hair Club, and most recently his own firm Legacy (http://www.legacyhaircenter.com). "Over the past 10 years, most of those consultations were women. However- the best options for hair loss have traditionally been designed for men. Most women aren't good surgical candidates. They aren't supposed to use Propecia, and until recently most hair replacement centers focused on men. A few years ago, we decided to focus our efforts on the hair loss needs of women."
According to the International Society Of Hair Restoration Surgery, 21 million women in the U.S. alone suffer from hair loss, and an astonishing 80% of women will have noticeable hair loss by age 60.
"Many women see that their hair is getting thinner, and they think that extensions are the answer," continues Talent. "Certain extensions can be great, but there are new technologies that most women aren't aware of. Our hope is that Headturners can help spread the message to women who might be looking for answers."
Headturners is a Kindle ebook available on Amazon.com. It will be available for free April 30th and May 1st, 2014.