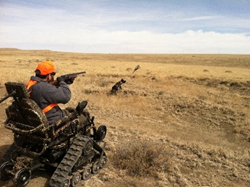 "Matt Amos is a good man and an American hero who served our country on three deployments with the Marine Corps," said Kilgannon.
(PRWEB) April 25, 2014
Freedom Alliance will give a custom-made, all-terrain wheelchair to a local, wounded military hero to help his continued rehabilitation and allow him to participate in his favorite activities like hunting and fishing.
In a ceremony to take place on Thursday, May 1st, Freedom Alliance will present the chair to Sgt. James "Matt" Amos, a U.S. Marine who lost both legs, fractured his pelvis and suffered internal injuries in 2011 after stepping on an improvised explosive device (IED) in Afghanistan. He was with the 1st Battalion, 5th Marines during his third deployment in support of the War on Terror when he was injured. His two previous deployments were to Iraq.
After multiple surgeries and an arduous regiment of rehabilitative therapy, Amos is on a positive road to recovery. He loves the outdoors, but it is not easy to navigate the terrain in a traditional wheelchair. With the assistance of his new Trackchair, Amos can more easily participate in the activities he has always loved and which help him to relax and stay healthy.
Amos describes himself as "an avid hunter and fisherman," but says when he tries to participate in those activities; he often encounters "obstacles that make walking and hunting a problem." He is grateful to Freedom Alliance for providing this gift and explains that "my new Trackchair will allow me to move more quietly and safely through the thick brush that previously got tangled around the prosthetics and frequently caused me to fall." He went on to say that the chair "will allow me to fish around embankments that otherwise would not be possible."
Amos and his wife Audrie have been married for nine years and live in Andale, Kansas with their two children. The presentation ceremony will take place:
Thursday, May 1, 2014
Mid-America Fittings
7604 Wedd Street, Overland Park, Kansas
10 a.m.
This is the second Trackchair Freedom Alliance has donated to a wounded service member with additional donations planned in the months ahead. Presenting the chair to Sgt. Amos will be Freedom Alliance President Tom Kilgannon who noted that it is difficult for injured service members to obtain an a Trackchair because they are expensive and insurance often does not cover the purchase.
"Matt Amos is a good man and an American hero who served our country on three deployments with the Marine Corps," said Kilgannon. "This chair is a small token of our appreciation for his service and sacrifice. I hope it brings him comfort and the ability to enjoy nature and his favorite activities more easily."
Freedom Alliance extends its thanks to several of the organization's supporters who were instrumental in making this gift possible: Scott and Beverly Shane of Mid-America Fittings located in Overland Park; Bob Hodgdon of Hodgdon Powder Company, Inc. located in Shawnee, Kansas; and Steve and Rosa Buzash of Standard Metals, Inc. located in Hartford, Connecticut.
In addition to Trackchair donations, Freedom Alliance has provided $8 million in college scholarships for the children of military heroes who were killed or disabled in military service, and millions more to help wounded troops and military families with outdoor recreation therapy such as hunting and fishing trips, Heroes Vacations, care packages for deployed troops, refurbished homes and much more.
Previous Trackchair donation information found at: https://freedomalliance.org/highlights/marine-amputee-receives-all-terrain-trackchair/.
For more information about the Action Trackchair™ visit http://www.actiontrackchair.com.
For more information about Freedom Alliance visit http://www.FreedomAlliance.org.
Media should RSVP to Donnie Gallagher of Vistra Communications at 813.321.3314 or DonnieG(at)ConsultVistra(dot)com.
-30-