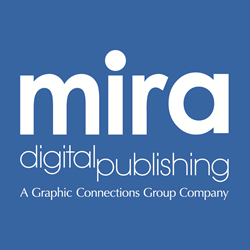 Running a Kickstarter campaign was one of the most exciting times of our lives.
Chesterfield, MO (PRWEB) April 29, 2014
Mira has recently had authors using Kickstarter to fund their self-published book projects. Kickstarter is a website that allows creative people to raise money for projects such as films, books, fashion, art, games, or music. They make a video describing their project and why it is important, and then ask for people to pledge money to help bring the project to fruition. These people are called backers, and they enter their credit card information online; their card is charged as soon as the project is successfully funded.
People who decide to back a project by giving money may receive a reward of some sort, depending on how much they pledge--a special experience, a copy of the work being funded, etc. For example, one of Mira's authors, David Montgomery, funded his graphic novel "The Secret Around-the-World Adventures of Owney the Postal Dog" using Kickstarter. The reward he gave to his backers was to include their pet in his book. The dogs and cats of the supporters are scattered throughout the pages of the story. There is also one page toward the back that has all of the pets and their names listed as "Friends of Owney."
A husband and wife team, Lisa and Vincent Howard, created a book called Ryubix Manor. It is a gaming module that the Game Master or Dungeon Master uses to take their adventurers, otherwise know as Role Players, through the halls of Ryubix Manor, a fictional haunted house. While inside, the players will encounter monsters and various non-player characters with which to interact. The players can find treasure, gain experience points, and learn new skills for their character while playing. After a rough draft of the module was given a stellar review by a famous reviewer, the backers started rolling in. The project had 100 backers total, and only 10 were friends or family of the Howards.
Kickstarter was an interesting experience for Lisa and Vincent. "Running a Kickstarter campaign was one of the most exciting times of our lives. We installed the KS app on our phones, tablet, and if we checked it once, we checked it a hundred times a day." After the adrenaline wore off at the end of the Kickstarter campaign, they were left with mixed feelings. "This thing, this campaign that we nurtured in its fetal stage was over; it was here, and although we were quite successful in our campaign, we didn't know what to do with ourselves." They were so impressed with their experience, they have two more projects in the works for which they will use Kickstarter to raise funds; one is a supplement to Ryubix Manor. Find a pdf of Ryubix manor and preorder the print verson here: http://www.secondthoughtgames.com.
Kickstarter has funded over 60,000 projects since its launch in 2009, with over five million people pledging over $1 billion.
Mira Digital Publishing is a subsidiary of Graphic Connections Group, LLC, and has been serving clients nationwide since 1992. Mira specializes in printing all types of books for self publishers. Jeff or George can be contacted at (866) 341-9588.