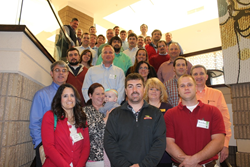 Statesville, NC (PRWEB) April 25, 2014
Vance C. Dalton, Jr., CEO of Carolina Farm Credit announces that the participants of the 5th Annual Ag Biz Planner recently graduated from the program.
The program included a total of 30 participants from five Farm Credit associations throughout North Carolina, Virginia, West Virginia and Maryland. The participants from Carolina Farm Credit were Robert Stas of Burlington, Jillian and Ross Mickens of Cedar Grove, Johnny Smith of Denver, Crystal and Edward Marshall of Union Grove and Lynn and Chuck Weinberg of Belmont.
The Farm Credit University (FCU) Ag Biz Planner program was developed and led by Dr. David Kohl, a retired Virginia Tech agricultural finance and business management expert, and teaches young, beginning and small farmers new business skills to successfully manage and grow their operations.
In addition to the online course, participants had a close mentoring relationship with a Carolina Farm Credit loan officer that served as coach and facilitator as they worked through the course, leading to the creation of a business plan for their farm. The mentors this year were Tonja Walker of the Graham branch, Tripp Smith of the Hillsborough branch, Ben Cabaniss of the Lincolnton branch, Brent Warren of the Statesville branch and Brian Hord of the Lincolnton branch.
The course recently concluded with a conference in Raleigh where the participants shared their business plans and had a chance to meet and network with each other and Dr. Kohl.
Carolina Farm Credit is a stockholder-owned cooperative providing financing to full and part-time farmers and agricultural-related businesses and also provides financing for the construction and purchase of homes in 54 counties through 36 branch offices. Other financial services available are credit life insurance, crop insurance, appraisal services, leasing programs and financial planning.
Carolina Farm Credit serves over 9,000 members with loans outstanding totaling more than $1.4 billion. The association's territory covers the western half of North Carolina, with branch offices located in Albemarle, Asheboro, Asheville, Boone, Browns Summit, Burnsville, Carthage, Concord, Ellerbe, Graham, Hendersonville, Hillsborough, Jefferson, Lenoir, Lexington, Lincolnton, Marshall, Mocksville, Monroe, Murphy, Newton, Pilot Mountain, Roxboro, Rural Hall, Salisbury, Shelby, Siler City, Sparta, Spindale, Statesville, Taylorsville, Wadesboro, Waynesville, Wilkesboro, Yadkinville, and Yanceyville.
Carolina Farm Credit was recognized as a 2013 Best Employer in North Carolina. The list of the Best Employers in North Carolina was created by Business North Carolina, the Society for Human Resource Management (SHRM) – NC State Council and Best Companies Group.
Directors for Carolina Farm Credit are Mark A. Bray, Chairman, Lawsonville; L. Kim Starnes, Vice-Chairman, Salisbury; John M. Barnard, Statesville; E. Bernard Beck, Seagrove; W. Rex Bell, Statesville; David M. Coltrane, Pleasant Garden; Susie J. Gambill, Sparta; Joseph A. Lail, Shelby; W. Steve Love, Graham; Bobby J. "Bud" Matthews, East Bend; Clark M. Newlin, Haw River; Thomas E. Porter, Jr., Concord; Tony L. Ragan, Sanford; D. Kaleb Rathbone, Waynesville; Lewis E. Smith, Lincolnton; Vickie N. Smitherman, East Bend; Dr. Alton Thompson, Summerfield.