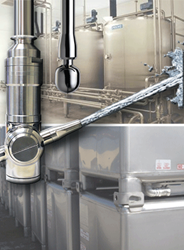 ...How to spend less time, money, energy, and resources and increase production and profits...
Exton, PA (PRWEB) April 25, 2014
After 20 years of experience, we've learned by focusing on obtaining the most efficient and effective tank and tote cleaning process, manufacturing and processing companies will yield results that have a positive impact on their bottom line. Find out how by joining Gamajet, part of the Alfa Laval Group and New Equipment Digest on Wednesday, April 30th, 2014 at 2:00pm EDT. Click here to register.
This webinar will offer expert advice from Andrew Delaney, Executive Vice President of Gamajet/Alfa Laval Tank Equipment, and George Stewart, Head Engineer. The presentation will provide information on how to spend less time, money, energy, and resources and increase production & profits, specifically:

What to look for when purchasing a tank or tote cleaning machine
Benefits of rotary impingement machines and rotary sprayheads
Pros and cons of common tank and tote/IBC cleaning methods
Vital information to help you decide what the best approach is for your company
For more information and to register for the webinar, please visit http://goo.gl/mRWC77.
Purchased by Alfa Laval in 2012, Gamajet continues to supply a "Better Way to Clean" all types of tanks and vessels as the North American Tank Cleaning Competency Center for Alfa Laval. The Gamajet rotary impingement cleaning method has become the first choice in cleaning for many of the world's largest personal care and pharmaceutical manufacturers, breweries, food manufacturers, trucking fleets, municipalities, wineries, and chemical operations. Gamajet rotary impingement tank cleaning machines combine pressure and flow to create high impact cleaning jets. Cleaning occurs at the point in which the concentrated stream impacts the surface. It is this impact and resulting tangential force that radiates from that point and blasts contaminants from the surface, scouring the tank interior. In conjunction with this impact, the Gamajet is engineered to rotate in a precise, repeatable and reliable, 360-degree pattern. This full-coverage, global indexing pattern ensures the entire tank interior is cleaned, every time. For more information, visit http://www.gamajet.com or call 610-408-9940.
About Alfa Laval
Alfa Laval is a leading global provider of specialized products and engineering solutions based on its key technologies of heat transfer, separation and fluid handling. The company's equipment, systems and services are dedicated to assisting customers in optimizing the performance of their processes. The solutions help them to heat, cool, separate and transport products in industries that produce food and beverages, chemicals and petrochemicals, pharmaceuticals, starch, sugar and ethanol. Alfa Laval's products are also used in power plants, aboard ships, in the mechanical engineering industry, in the mining industry and for wastewater treatment, as well as for comfort climate and refrigeration applications. Alfa Laval's worldwide organization works closely with customers in nearly 100 countries to help them stay ahead in the global arena.