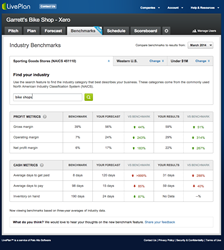 Eugene, Ore. (PRWEB) April 24, 2014
Palo Alto Software's online business planning and performance tracking tool, LivePlan, released a new feature last week that allows users to compare their financial goals and actual results with other businesses in their industry.
With industry information provided by SageWorks, business owners will be able to compare six key metrics within LivePlan. These numbers consist of profit metrics, including gross margin, operating margin and net profit margin, as well as cash metrics such as average days to get paid, average days to pay, and inventory on hand.
"We are very excited to offer LivePlan users the opportunity to compare how their business is doing to other businesses in their same region, revenue range, and industry," said Sabrina Parsons, CEO of Palo Alto Software. "This Benchmark feature helps any business owner immediately see which key metrics may be under-performing, compared to the industry benchmark, and gives the business owner the power to take action and immediately affect their bottom line."
LivePlan users will choose their respective industry using a NAICS code, and then choose a region and revenue size to garner the most accurate results. There is no other business tool on the market which allows a business owner to forecast goals, bring in actual financial results automatically, and then compare both their goals and actual results to industry benchmarks.
"In the overwhelming world of big data and extreme information, getting the right data to business owners empowers them to make better choices for their business," said Michael W. McNeilly, vice president at Sageworks, Inc. "When Palo Alto Software approached us about partnering with them, we were excited because both companies are built around the principle of helping business owners grow financially healthy companies through relevant insights and actionable intelligence."
LivePlan is available for $19.95 a month or $139.95 annually. The new industry benchmarks feature is now available for all LivePlan users.
About Palo Alto Software
Palo Alto Software, Inc., makers of the #1 selling business planning software in the world, develops and publishes tools, products, and content to help small and midsized businesses pitch, plan, manage, and grow their ventures. LivePlan, the company's flagship product, is a SaaS (software as a service) solution for business planning and financial management. Palo Alto Software has been the market leader in its category for over 15 years, has served well over 2 million entrepreneurs, and has customers in 180 countries. It was founded in 1988 by business planning expert Tim Berry. Sabrina Parsons has been the company's CEO since 2007. Parsons successfully expanded its service offering into the cloud with LivePlan. Palo Alto Software is a privately-owned corporation based in Eugene, Oregon.