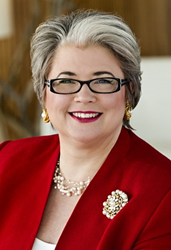 We'll look at the advances, surprises and super-stars of marketing to women. We'll consider the lessons learned from recent brand successes and missteps.
Chicago, IL (PRWEB) April 25, 2014
Marti Barletta, author of the seminal work "Marketing to Women" and also "Prime Time Women" and founder of The Trendsight Group, will present a retrospective look at the last ten years of marketing to women at the 10th Anniversary M2W® – The Marketing to Women Conference, May 6 & 7, 2014, Chicago Cultural Center. M2W® is annually attended by Fortune 1000 marketing executives and their advertising, marketing, promotion and public relations agencies.
Barletta, internationally recognized expert on the female consumer, acclaimed speaker and two time winner of the M2W® 'Take The Cake' best speaker award, explained, "Since 2005, and the launch of the original M2W® conference, much has changed in the world of marketing. We've witnessed the widespread adoption of new technologies, the rise of BRIC countries' buying power, and the sales-suppressing Great Recession. In my keynote, we'll take a look at all that and examine the impact on the world of marketing to women. We'll see what's new, what's changed, what's worked, and what's next."
"We'll look at the advances, surprises and super-stars of marketing to women. We'll consider the lessons learned from recent brand successes and missteps. We'll also interpret the disconnect between the market and marketing "makers" which are holding back brands' ability to truly activate the opportunity so evident in the data about women's purchasing power. I'll wrap it up with a proposal for a way to raise the visibility and credibility of the women's market. Finally, instead of the same old Q&A, I'll close with an "Ask the Audience" mini-brainstorm to collect their reactions, experiences and suggestions"
"Marketers really love Marti. She literally wrote the first, ground-breaking book on marketing to women. She's consulted and spoken all over the world. I'm sure all the brand marketers in the audience look forward to Marti's session. Even after ten years and countless studies, marketing to women is still a challenge for a lot of brands in a lot of different categories. We're really honored Marti will be helping us celebrate M2W®'s tenth anniversary," said Nan McCann, M2W® producer. "In addition to Marti, this year's program includes presentations from Harley-Davidson, BlogHer, CorningWare, Yahoo!, Lifetime, McDonald's, WNBA, WebMD and Vixen Vodka among others."
"M2W® is designed to teach marketers how to build better business with women who control 85% of all consumer spending in virtually every product category," according to McCann. "The audience typically includes companies as diverse as Bayer, Aetna, ESPN, Kraft Foods, Ford, GM, J&J, Kellogg, Diageo, Walgreens, Wells Fargo, NBA, Burton, L'Oreal, ConAgra and Whirlpool. They attend because they recognize the brand-critical importance of reaching women."
M2W® 2014 is presented by Associate Sponsors: M Booth; World Kitchen; iProspect; Harley Davidson; McDonald's; WebMD; TrendSight Group; Branderati; Blissful Media Group; YWomen; BlogHer; Insight Women; Lifetime; Workshop Sponsors: Yahoo!; Fletcher PR; Graphic Packaging International; Showcase Sponsors: Ketchum; Vixen Vodka; Initials; WNBA; eHealthcare Solutions; Pasta Chips; Barbie; true(X)media; May Designs; Boom! Marketing; Video Content Resource: Snippies; Official Bookseller: PMP; Media Sponsor: Today's Chicago Woman. This year M2W® proudly supports Girl Scouts of the USA.
For complete conference schedule and information visit: http://www.m2w.biz or call 860.724.2649 x13. M2W® is produced by PME® Enterprises LLC, 912 Silas Deane Highway, Suite 101, Wethersfield, CT 06109. PME® is a sales and marketing agency with a special emphasis on events.