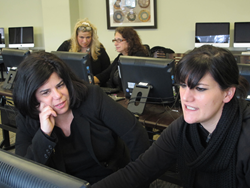 White Plains, NY (PRWEB) April 25, 2014
Since Archbishop Stepinac High School first introduced its Digital Textbook Library at the start of the 2013-14 school year to its nearly 700 students, buzz has quickly spread about the innovative, state-of-the-art technology that is making learning convenient and efficient for high school students in Westchester County.
Created in collaboration with Pearson, a provider of educational materials, technologies, assessments and related services, the Digital Textbook Library provides Stepinac students with more than 40 academic textbooks and has made the school a trend setter in technology and education. The first customized digital library of its kind has headlined national, regional and local news over the last several months.
"In September, we knew we were introducing a cutting edge program to our students, but we never could have imagined how widespread the impact would be," said Father Thomas Collins, Stepinac's President. "Now we have found ourselves the focus of educators across the United States. Needless to say, it has been rewarding for all of us at Stepinac to get recognition for our leadership. We are proud of how our faculty and students have adjusted to this entirely new approach to learning."
Pearson's Senior Vice President of Mobile Product Design Deb Bonanno said, "Archbishop Stepinac High School's successful roll-out of its digital library shows what is possible when a school community--teachers, administrators, students, and parents--unites around a vision for digital learning. We are excited to work with such a forward-thinking school that is a model for a successful one-to-one implementation."
Frank Portanova, Stepinac's Vice Principal for Academics and Curriculum, has been managing inquiries from school districts and educators throughout the country. He says Stepinac has received literally dozens of phone calls and emails seeking information about the program, including inquiries from Atlanta, Tennessee and California. "Representatives from school districts in the New York Metropolitan area and beyond have even visited the school to learn firsthand how the program works. In recent weeks, faculty members from Archbishop Molloy High School in Queens and Shenendehowa Central School District in Clifton Park, New York near Albany have visited," he said.
Commenting on the Digital Textbook Library, Dr. L. Oliver Robinson, Superintendent of Schools for Shenendehowa said: "We are enthusiastic about the positive role digital libraries hold for our students as 21st century learners. When students have innovative resources, we know they are prepared to excel."
During a recent visit to Stepinac, Dorothy DeNoto, Director of Library Services at Molloy, said she was fascinated by the program. "Seeing the Digital Textbook Library first hand, it was obvious that it has tremendous advantages for our students. It will promote the ease of learning, enhance a variety of teaching methods, and keep students stimulated in the classroom. We plan to implement a similar program at our school in the future."
Ed Cameron, Molloy's Assistant Principal for Academics, agreed that the program will work very well for his students. He said: "The definition of 'smart' has definitely changed, and change is good. As the faculty learns how to incorporate this in our lesson plans, I'm sure our students will also teach us a few things about technology."
At Stepinac, students are charged a one-time annual fee of $150 and can visit the Digital Textbook Library through a website or application for various Androids and iPads to gain access to its College Prep Digital Library and the Honors/AP Digital Library. While viewing the digital textbook, students can use tools like highlighting, audio and videos for an interactive learning experience. In the past, students typically spent $500 to $600 to purchase seven hard copy textbooks for the school year.
Over the past two years, Stepinac has invested over $1 million in infrastructure to support this customized Digital Textbook Library. The next step will be to incorporate charging stations for laptops and tablets throughout the school.
For more information about the Digital Textbook Library at Stepinac High School, call Frank Portanova at 914-946-4800 or email fportanova(at)stepinac(dot)org.
About Stepinac
Founded in 1948, Archbishop Stepinac High School's mission is to offer young men a highly competitive academic and extracurricular program that will prepare them for college and leadership roles. The faculty and staff accomplish these objectives by pursuing excellence and creating a supportive, disciplined atmosphere with a strong sense of camaraderie and Christian values that are unique to the Stepinac experience. For more information on Stepinac High School please visit http://www.stepinac.org.