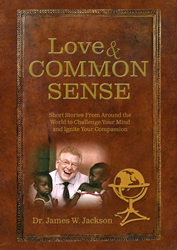 Dr. Jackson is a gifted storyteller who draws his unique insights from his personal visits to over 150 countries.
Evergreen, Colorado (PRWEB) April 29, 2014
Dr. James Jackson, international economic consultant and humanitarian has completed narration of his award winning book "Love & Common Sense" for Brook Forest Voices, audiobook producer and publisher. "Love & Common Sense" was released April 15, 2014.
"Love & Common Sense" was recognized by the Colorado Independent Publishers Association (CIPA) as the 2013 Gold Medal recipient in the Travel category, and as the 2013 Bronze Medal recipient in the Non-Fiction category. "Love & Common Sense", a compilation of 70 short stories, could easily be categorized as just a travel book, but it's so much more. These stories are a blend of business, economics and extravagant compassion that give lucid and dramatic insights into the selfless activities and adventures of Dr. Jackson, including hours of devotion to Project C.U.R.E., an organization founded by Dr. Jackson as a vehicle to distribute donated medical supplies and pieces of equipment to more than 125 countries around the world. As a result, thousands of people in these countries are alive today.
"Love & Common Sense" is now available on the online BFV Audiobook Store and AmblingBooks.com. It will be available soon on sites including: Amazon, Audiobooks.com, Audible, OverDrive, Learn Outloud, iTunes, Catalist Digital, Barnes and Noble, Books a Million, and more.
About Brook Forest Voices: a complete audio production studio located just west of Denver in Evergreen, CO, specializing in audiobook narration, production and publishing. BFV is designed to help large and small publishers, as well as authors, with all their audio needs. Publishers and authors wanting to learn more can visit http://www.brookforestvoices.com or contact Jaime Andrade, BFV Business Manager at 303-670-4145.