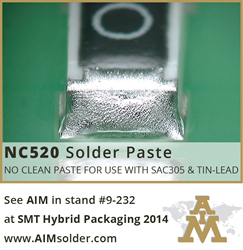 Cranston, Rhode Island (PRWEB) May 01, 2014
AIM Solder, a leading global manufacturer of solder assembly materials for the electronics industry, will highlight their new NC520 and NC273LT solder pastes in hall 9 stand 232 at SMT Hybrid Packaging 2014, the 6-8th of May in Nuremburg, Germany.
The newly developed NC520 is a no clean, halogen-free solder paste designed for the most demanding high density electronic assemblies. NC520 offers excellent wetting, improved printing and reduces voiding. The superior wetting ability of NC520 results in bright, smooth and shiny solder joints. Consistent transfer efficiencies reduce head-in-pillow defects even when component/substrate co-planarity is not optimal.
AIM's new NC273LT solder paste for bismuth containing alloys provides assemblers with an innovative solution when temperature sensitivity is critical. This new solder paste contains a revolutionary activator system that improves the wetting performance of bismuth alloys to RoHS compliant plating and surface finishes. NC273LT minimizes solder balling, a defect common to high bismuth materials.
AIM offers locally made solder paste, bar solder, wire solder, and liquid flux throughout Europe with manufacturing and stocking locations in Poland, Italy, and Spain.
In addition to their two new solder paste products, AIM will highlight its complete line of solder paste, liquid fluxes, tin/lead and lead-free alloys, and specialty alloys. To discover all of AIM's products, visit the company in stand 9/232 at SMT Hybrid Packaging 2014.
About AIM
Headquartered in Montreal, Canada, AIM Solder is a leading global manufacturer of assembly materials for the electronics industry with manufacturing, distribution and support facilities located throughout the world. AIM produces advanced solder products such as solder paste, liquid flux, cored wire, bar solder, epoxies, lead-free and halogen-free solder products, preforms, and specialty alloys such as indium and gold for a broad range of industries. A recipient of many prestigious SMT industry awards, AIM is strongly committed to innovative research and development of product and process improvement as well as providing customers with superior technical support, service and training.
Upcoming Events:
May 6-8, 2014 - SMT Hybrid Packaging 2014 Stand #9/232 – Nuremburg, Germany
May 21-22, 2014 – Expo Proveedor Industrial Booth #12 – Matamoros, Mexico
June 18, 2014 - SMTA Upper Midwest – Bloomington, MN USA
For more information about AIM, visit http://www.aimsolder.com.