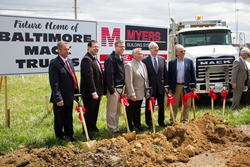 "I'd like to note how positive the whole process has been here in Washington County," Baltimore Mack President Steven Parker said as he addressed the group, "…keep it up because you're doing a great job."
Hagerstown, Md. (PRWEB) April 24, 2014
The Washington County, Maryland Board of County Commissioners are pleased to announce the ground breaking for a new Baltimore Mack facility at 11715 Greencastle Pike, Hagerstown, Md.
Managed through the Washington County Department of Business Development and the Washington County Economic Development Commission Board, the project utilized the Pad Ready Site Commercial Stimulus Program to assist with its $5 million investment.
"Baltimore Mack is a valued member of our business community and we are so excited they are able to retain existing positions and add brand new jobs to their operation in Washington County," stated Commissioner President Terry Baker. "Their continued reinvestment in the community is a testament to the growth opportunities here."
The new 31,000-square-foot building will be used for truck sales and service. Additionally, the new site will replace the current Hagerstown location, 12821 Salem Ave. and the expanded capacity will add 11 new full-time jobs increasing the total to 25 employees.
The County's Project Liaison guided the project through the regulatory process utilizing the Fast Track Construction Program with significant assistance from the Division of Engineering and Construction Management.
"I'd like to note how positive the whole process has been here in Washington County," Baltimore Mack President Steven Parker said as he addressed the group, "…keep it up because you're doing a great job."
For additional information, contact Public Relations and Community Affairs Manager James Jenkins at 240-313-2384.
###
About Baltimore Mack
Baltimore Mack is a second-generation, family-owned and operated dealership comprised of four (4) locations in Baltimore, Frederick and Hagerstown, Md. The corporate headquarters is a full-service Mack and Hino franchise located in Linthicum, Md., and includes a full-service Volvo truck franchise, trading as Baltimore Volvo Trucks, adjacently located to Baltimore Mack. Hagerstown Division, a full-service Mack franchise, located in Hagerstown, Md. Frederick Division, located in Frederick, Md., is a subsidiary Mack parts facility.
About Washington County, Maryland Government
Washington County, Maryland Government strives to fulfill its duty to the citizens of Washington County with regard to operational efficiency, fiscal responsibility, and responsiveness to the needs of the community. This vision is used to ably assist the Board of County Commissioners of Washington County in achieving goals for moving the County forward as present needs and future plans are addressed.
According to the Maryland Department of Legislative Services, the Washington County General Fund has one of the lowest costs per capita for services provided of all 23 counties and Baltimore City. This is attributed to the efficiency, staffing levels, and cost containment exhibited in Washington County Government operations. Visit http://www.washco-md.net for more information.
Get Connected and See Updates
Follow us on Twitter @WashingtonCoMD
Like us on Facebook at WashingtonCountyMD
Watch on YouTube at WashingtonCountyMD