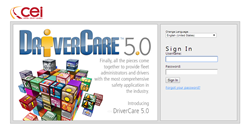 This capability -- the first of its kind in the fleet industry -- solves the problem of identifying drivers who receive traffic safety camera tickets.
Trevose, PA (PRWEB) April 24, 2014
The CEI Group, Inc. (CEI), North America's largest fleet accident management and safety company, will demonstrate the new traffic safety camera violation capability of its DriverCare™ online fleet safety and risk management system at the insurance industry's largest trade show in Denver, CO, next week.
The new functionality was developed and operates in cooperation with American Traffic Solutions (ATS) Fleet Services, a leading provider of road fleet toll and violation management solutions. Its capabilities include:

Automatically identifying and notifying fleet drivers who receive traffic safety camera violations, including those for speeding, running red lights, failing to pay tolls, illegal parking and illegally passing school buses.
Enabling fleet drivers to review violation documentation, helping them to decide whether to contest the citation.
Enabling drivers to pay the fines through the DriverCare system via ATS.
Incorporating a record of those violations in drivers' history files, and adjusting drivers' risk score.
Automatically assigning targeted, remedial driver safety lessons.
"This capability is the only one of its kind in the fleet industry," said Brian Kinniry, CEI's director of strategic account services and head of the company's safety and risk management services. "It solves the problem fleets face in most states, where traffic safety camera violations are issued to the owner of the vehicle.
"That makes it very difficult to link those violations to the driver, and if that doesn't happen, can expose fleets to greater liability for any future accidents those drivers may cause. Now, with DriverCare, fleets can identify responsible drivers and take appropriate steps to intervene to help prevent a future accident."
The RIMS 14 Annual Conference & Exhibition is sponsored by the Risk Management Society. It is being held in the Colorado Convention Center in Denver, CO, from Sunday, April 27 through Wednesday, April 30. CEI will be exhibiting in booth number 2129.
CEI's DriverCare system incorporates driver history data, including accident and motor vehicle violation history, assigns a risk rating to each driver that is updated as new information is received, automatically notifies drivers, their managers and fleet officials when their risk ratings increase, and automatically assigns remedial training. Since it was introduced in 2000, DriverCare has helped fleets reduce their vehicle accidents by as much as 30 percent, Mr. Kinniry said.
About The CEI Group, Inc. (CEI)
CEI is a leading provider of technology-enhanced vehicle accident, driver safety and fleet risk management services. Its provider network consists of some 4,000 collision repair shops in North America, and includes nearly 1,000 truck collision repair centers. Its customers include self-insured, commercial, and institutional and government fleets, directly and through alliances with fleet leasing companies. CEI also provides vehicle direct repair program outsourcing to leading property and casualty insurance companies.
Founded in 1983, CEI has headquarters near Philadelphia, PA, and field sales offices in Trevose, PA, Tulsa, OK, and Lake in the Hills, IL. In 2000, CEI launched the DriverCare™ line of services, which include fleet risk management, MVR ordering and compliance, on-line and behind-the-wheel driver safety training and a safety newsletter. For more information about CEI, visit http://www.ceinetwork.com.
About American Traffic Solutions (ATS)
American Traffic Solutions (ATS) is a leading provider of fleet toll and violation management solutions in North America. Working with some of North America's largest Fleet Management and Rental Car Companies, ATS Fleet Services processes approximately 36 million toll transactions and more than 850,000 violations every year. ATS also is proud to be North America's market leader in road safety camera installations, with more than 3,200 installed red-light, speed and school bus stop arm safety cameras serving more than 300 municipalities. Visit http://www.atsfleetservices.com or http://www.atsol.com for more information.