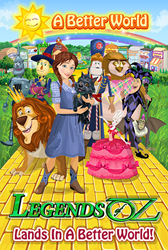 Wayne, PA (PRWEB) April 29, 2014
ToonUps and Summertime Entertainment announced today the release of the Legends of Oz: Dorothy's Return collection in ToonUps' game on Facebook, A Better World. With the collection now available, players of the uplifting "Do Good to Look Good" virtual world game can accessorize their characters and decorate their virtual homes based on content and characters from the upcoming animated feature film, releasing in theaters nationwide on May 9, 2014.
The debut of the Legends of Oz: Dorothy's Return collection includes over 100 branded virtual goods, with more exciting additions coming soon:

An Emerald City store, featuring Glinda the Good Witch, exclusive to the Legends of Oz collection
Outfits and accessories based on well-loved characters like Dorothy and Scarecrow, as well as new friends including the China Princess and Marshal Mallow
An adorable Toto pet to care for and love, along with many Legends of Oz pet accessories, and a new feature that lets pets follow players all around the virtual world
Legends of Oz themed home makeover sets including house exteriors, wallpaper and flooring, furniture, and other beautiful home decor based on China and Candy Counties, Dorothy's Kansas bedroom, and more
A collectable set of Legends of Oz character plushies
The Legends of Oz: Dorothy's Return collection is the latest content licensing partnership for A Better World, which has seen more than 2.5 million players do more than 14,000,000 good deeds in the game. This campaign was brokered by KZero Worldswide.
About ToonUps
ToonUps (http://ToonUps.com) is a digital entertainment company whose mission is to create online games and apps to brighten the world. ToonUps has created a rich array of products designed with the purpose of uplifting people through optimism, altruism and fun. From social gaming to business training, their innovative content brings these core themes to a variety of markets. Most notably this includes A Better World (http://Facebook.com/ABetterWorld), a free, uplifting game on Facebook and BetterWorldians Radio (http://BetterWorldiansRadio.com), an inspiring Internet radio broadcast. ToonUps is headquartered in Wayne, PA.
About A Better World
A Better World is a virtual world game on Facebook that creates a fun environment to inspire players to help others and make the world a better place. The game is creating a powerful legion of do-gooders known as BetterWorldians who are rewarded for doing good deeds while helping to raise money and awareness for real life charities. Over 2.5 million people have performed over 14 million good deeds in A Better World to date. Learn more at http://Facebook.com/ABetterWorld.
About Legends of Oz: Dorothy's Return
Legends of Oz: Dorothy's Return is a 3D-animated musical based on the adventure books by Roger Stanton Baum, the great-grandson of L. Frank Baum. A continuation of one of the world's most popular and beloved fairy tales, Legends of Oz finds Dorothy (Lea Michele) waking to post-tornado Kansas, only to be whisked back to Oz to try to save her old friends the Scarecrow (Dan Aykroyd), the Lion (Jim Belushi), the Tin Man (Kelsey Grammer) and Glinda (Bernadette Peters) from a devious new villain, the Jester (Martin Short). Wiser the owl (Oliver Platt), Marshal Mallow (Hugh Dancy), China Princess (Megan Hilty) and Tugg the tugboat (Patrick Stewart) join Dorothy on her latest magical journey through the colorful landscape of Oz to restore order and happiness to Emerald City. Set to the tunes of Academy Award-nominated singer/songwriter Bryan Adams, Legends of Oz marks a charming, family-friendly return to the Oz franchise. More information about the film can be found at http://www.LegendsOfOzMovie.com.
About Summertime Entertainment
Founded by Ryan Carroll and Roland Carroll, Summertime Entertainment is a multi-media company specializing in family-friendly entertainment for film, television, digital, mobile and other trans-media platforms. Currently, Summertime Entertainment is developing family entertainment ventures from beloved iconic literature, including the adventure book series from Roger Stanton Baum, containing the timeless allure of the Oz created by his great-grandfather L. Frank Baum. More information about Summertime Entertainment can be found at http://www.summertimemedia.com.
About KZero
Founded in 2006, KZero is a market-leading online games consulting firm providing strategy, analytics and insight for the rapidly growing kids gaming market. KZero clients include Summertime Entertainment, Viacom, The BBC, France Televisions, Mattel and Ubisoft. Learn more at http://www.kzero.co.uk.