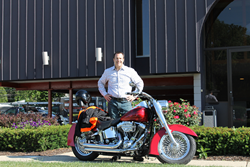 I always encourage motorcyclists to get their CY endorsement.
Lansing, MI (PRWEB) April 25, 2014
Attorney Jason Waechter, known by fellow bikers as The Motorcycle Lawyer, is applauding the approval of House Bill no. 4781 on Tuesday, April 22. The bill will close what was essentially a "loophole" in the way that motorcycle endorsements are obtained. "I can't say this is a major or life-changing decision," says Waechter, "but it's definitely a step in the right direction in terms of promoting legal riding in Michigan."
In Michigan, motorcyclists are required to have a CY endorsement on their regular driver's license in order to ride legally on the road. To get a CY endorsement, Michigan motorcyclists must complete a three-step process, as outlined on the Secretary of State website: First, they must pass a written and visual test at a Secretary of State office. Then, they need to pass a rider skills test or a certified riding safety course. Finally, applicants must submit proof of successful completion of these items to the Secretary of State office, along with payment for the endorsement.
House Bill no. 4781 amends a section of the Michigan vehicle code (MCL 257.306), which allowed bikers to get a Temporary Instruction Permit (TIP) so they could ride legally for six months (with restrictions) while practicing their skills for a rider safety test or while working towards completing a certified riding safety course. The Bill limits riders to two TIPs in a ten-year period. TIP riders are restricted to riding during daylight hours, always wearing a helmet while riding, and riding with another motorcyclist who has a full endorsement, among others. An article featured on mlive.com (Mlive) on April 23 explains that some motorcyclists were abusing the temporary option by applying for a TIP at the start of each motorcycle season, instead of taking the steps necessary for a full CY endorsement; this would essentially permit them to ride without ever having taken a safety course or skills test.
"The way I look at it, there is no reason not to get your CY endorsement," says Waechter. He believes riders need to understand their rights when it comes to having – or not having – an endorsement. "Look, if you ride without a proper endorsement, you aren't waiving all your rights if you're involved in a crash; of course you still have rights. That said, getting your full CY is worth the time, and it's relatively inexpensive. Trust me; the ticket you get for riding without the endorsement will be a lot higher than the application fee, so I always recommend that motorcyclists ride legal. Plus, your insurance rates typically go down once you get your CY endorsement, so it can actually save you money in the long run!"
Waechter provides more information and analysis on Michigan's transportation laws and how they apply to motorcyclists, including the complicated no-fault laws, on his website: http://www.motorcyclelawyermichigan.com.
####
Jason Waechter has spent two decades cementing his reputation for results. Over the years, he has specialized his practice to motorcycle accidents. Jason has fought tirelessly for accident injury victims and contributed significantly to safety education and accident prevention. He has entrenched himself as one of the nation's premier lawyers. If you or a loved one has been injured in an accident, call 1-800-708-5433 to speak with a lawyer who can help.