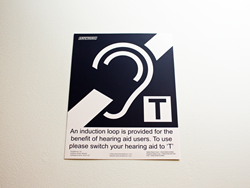 Greenburgh, NY (PRWEB) April 25, 2014
On Thursday, April 24, the Westchester Chapter of the Hearing Loss Association of America (HLAA) unveiled Greenburgh Public Library's state-of-the-art audio induction loop, which came as a donation from the local chapter's 2013 Walk4Hearing proceeds. An audio induction loop makes it possible for people with hearing devices to listen to and enjoy events that require PA systems that would otherwise be inaudible. Greenburgh Public Library, one of the largest free libraries in Westchester, is the first in the county to receive a system of this kind.
Special guest Lisa LaRocca, of News 12, emceed the unveiling, and Greenburgh Town Supervisor Paul Feiner presented a proclamation, naming April 24, 2014 "Hearing Loss Association of America Day" in the Town of Greenburgh. Greenburgh Public Library and HLAA also received Certificates of Merit from Westchester County Executive Rob Astorino's office and Assemblyman Thomas Abinanti (D-92nd District), who presented the district's accolade at Thursday's event.
In addition, the senior integration specialist at Metro Sound Pros, Leo Garrison, spoke to the audience about his company's installation of the loop and the importance of this system to the hearing impaired population. Metro Sound Pros is the country's leading installer of assistive listening technology and was responsible for installing the looping system in Greenburgh Library's multipurpose room in late March. The library's multipurpose room is the venue for HLAA Westchester Chapter board meetings and many other community events.
Garrison said that while assistive listening technology is mainstream in Europe, less than 1 percent of the US is looped. "This technology has allowed us to help so many people, but we still have a lot of work to do," said Garrison. "We have to advocate for the 17 percent of the American population with hearing loss, and unfortunately that number is increasing."
John Sexton, acting director of the Greenburgh Public Library, thanked the Westchester Chapter of HLAA for its generous funding of a permanent looping system, which cost nearly $5,000.
"It's really an honor to be able to donate this looping system to the Greenburgh Library, witnessing its completion, and knowing how it will impact so much of the community in a positive way," said Steve Wolfert, co-chair of HLAA Westchester's 2014 Walk4Hearing. "This just gives HLAA more fuel to make our 2014 Walk4Hearing an even greater success so we can continue to make a difference like we did here today."
The Westchester/Rockland Walk4Hearing is scheduled for 11 a.m. on May 17 at FDR State Park in Yorktown Heights, N.Y. The 5K walk additionally supports college scholarships for high school students will hearing loss, service dogs for hearing impaired people, help for soldiers returning from Iraq and Afghanistan who have suffered hearing loss, and many other programs and activities at the local and national level that serve the 48 million Americans with hearing loss.
Registration is available online at http://www.walk4hearing.org. To volunteer, contribute, or find out more about sponsorships, please contact co-chair Steve Wolfert at 914-960-4692 or swolfert(at)optonline(dot)net. Current sponsors include Phonak Hearing Systems and Oticon.