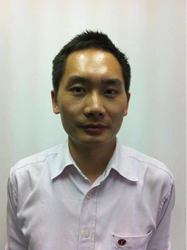 I am very happy to be part of the EXACT Dispensing Team
Newcastle, Maine (PRWEB) April 28, 2014
EXACT Dispensing Systems is a world leader in the meter-mix dispense of two component epoxy, urethane, silicone and other reactive chemistry adhesives and sealants. To better service and support the growing number of users and successful system installations in China, EXACT Dispensing has recently added a Shanghai based Technical Sales Manager, Mr. Master Wang.
Master is responsible for assuring that EXACT Dispensing Systems, now in use in China, are properly serviced and supported. Master is also expert in helping new users of EXACT Dispensing System solutions properly specify and select the correct elements that comprise a good meter - mix - dispense system for the China market.
Master is expert in his understanding of Epoxy, Urethane, Silicone and other chemistries in use in the wide industrial and automotive markets. He is available to help material suppliers solve their application problems with the most efficient and cost effective solutions.