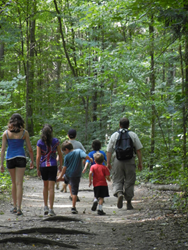 This new family hiking program is a terrific addition to their already strong portfolio of children's health programs.
(PRWEB) April 24, 2014
The Children's Obesity Fund, cofounded by Dr. Michael Omidi and Julian Omidi, is helping promote a Free Family Wilderness Hike this Saturday, April 26, in Twin Peaks, California. The hike which encourages healthy eating, nutrition and exercise is sponsored by GardenWorks for Kids, a foundation that addresses the epidemic of childhood obesity by introducing kids to garden produce from the soil to the table and helping them develop a love and respect for the environment.
"One of the absolute best ways of teaching kids to be healthy is to get them outdoors, being active, and enjoying the environment," according to Julian Omidi, Children's Obesity Fund cofounder. "We've been ardent supporters of GardenWorks for Kids for some time because of their focus on gardening and healthy eating. This new family hiking program is a terrific addition to their already strong portfolio of children's health programs. If you are in or around southern California on April 26, join the hike. It's free and fun."
Hikers will enjoy the beauty of the mountains and the wonder of spring at this celebration of the official opening of the Indian Hill Trail. The two-mile hike through the lush pine forest and native chaparral features unforgettable views of the Inland Empire Valley and promises plenty of wildlife sightings for all. Naturalists will be stationed on the trail to educate hikers about the environment and answer questions about the surroundings. The family-friendly trail is an easy hike, accessible to all.
All are invited to a Free Family Hike to Celebrate Opening Day of the Indian Hill Trail
Saturday, April 26, 2014 - 9am to 3pm
Meet across from the Pinecrest Christian Conference Center in Twin Peaks, California
For more information, email: info (at) gardenworksforkids (dot) org.
GardenWorks for Kids (http://www.gardenworksforkids.org) educates children on the importance of the environment and their vital role in preserving it. Its programs provide children from preschool to fifth grade with the opportunity to learn about horticulture in a small and intimate garden setting. The kids learn about all aspects of planting, including its history, the proper tools, beneficial and predatory animals and insects, how to pot plants, different species of plants, and how to bring the fruits of the garden to the table. The non-profit organization located in Yucaipa, California, encourages students to be proactive in their communities, reminding them that their choices are crucial to the future of the world in which they live.
Cofounded by Julian Omidi and Dr. Michael Omidi, the Children's Obesity Fund (http://www.childrensobesityfund.org) hopes to help reverse the trend of rising obesity rates in America. The goal of the non-profit charity is to help people fully understand the obesity issue and its dire impacts on individuals and society as a whole -- and to use that knowledge to encourage children to grow up strong and healthy. Children's Obesity Fund partners with other organizations to educate and support parents, educators and others so that we can all work together to raise healthy, active, social, and happy children. While the organization does not accept donations, it does encourage direct contributions of money and talents to the associations featured on our website. Children's Obesity Fund is on Facebook as well as Google+, Twitter, and Pinterest.