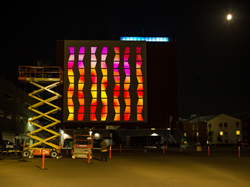 "Our team has the years of experience to create and design without difficulty on any projection surface." - J Matthew Nix, Project Lead for CPM
Chicago, IL (PRWEB) April 25, 2014
Chicago Projection Mapping (CPM), a Chicagoland-based content and 3D projection company, announced today new content creation services for both local and international AV providers and event planners. Specifically building on requests to collaborate within existing crews and workflows, CPM has implemented additional levels of customized design and implementation, available beginning today.
As top-tier content creation is typically the most critical aspect of an impactive 3D or 4D projection mapping display, CPM has begun offering new specialized services to interested organizations. AV providers and rental groups will appreciate the benefits of an outside team to handle the complex demands of a client's creative vision, while event planners will take advantage of CPM's exceptional creative team to develop once-in-a-lifetime displays that excel in using the unique medium to its fullest extent. Whether for an exterior brand launch, trade show in a convention center, high-profile gala, or virtually any live event environment, Chicago Projection Mapping has a customized solution to fit any projection needs.
CPM's versatile crew can work at all stages of the process, from inclusion as a short-term asset to existing animation and design teams, or as part of a long-term collaboration, designed to take a client's vision from concept to competition. All projects also give clients access to CPM's industry-leading consultation and technical services for optional on-site mapping and projection recommendations, as well as project management services to reduce project costs and streamline workflows.
"The learning curve behind content for projection mapping is challenging; you're teaching your brain to think outside of three dimensions," said J Matthew Nix, project lead for Chicago Projection Mapping. "Our team has the years of experience to create and design without difficulty on any projection surface."
Chicago Projection Mapping continues 2014 with ongoing displays across a number of industries. In addition to further release of interactive projection mapping, CPM remains at the forefront of midwestern projection, including architectural projection mapping, projection for live events, 3D and 4D mapping displays, and projection mapping for trade shows and corporate events. For inquiries or a free quote, please email info(at)ChicagoProjectionMapping(dot)com.
About Chicago Projection Mapping:
Based in Chicago, IL, Chicago Projection Mapping is a full service content creation and 3D projection mapping company, serving the corporate, event, meeting, and convention sectors. For more information, please visit http://www.ChicagoProjectionMapping.com, or call 630-620-0000.