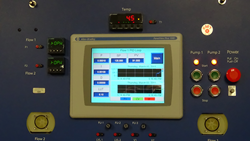 Hands-On Assessment Machines Lower The Risk And Cost of Hiring
Cleveland, TN (PRWEB) April 28, 2014
Cleveland State Community College (CSCC) has deployed two new manufacturing skills assessment machines designed and built by Scientific Management Techniques, Inc (SMT). The Computer Numeric Control (CNC) and Process Control Assessment Machines are used to identify and measure skills in the hiring process and to identify training needs of the industrial workforce.
Cleveland State's "OneSource Workforce Development Training Center" initially deployed SMT's Manufacturing Skills Training Curriculum and Assessment Program in April 2013. Since that time the school has been working closely with many local manufacturers to improve both employment and industrial productivity in Tennessee by increasing the skill level of the manufacturing workforce. To date, the results have been impressive reports, Mr. Rick Creasy, Cleveland State's Director of Workforce Development, "We have enjoyed the opportunity to work closely with many local manufacturers including Cormetech, Wacker, Merck, Georgia Pacific and many others. These organizations require both the Skill Assessment Program and the Manufacturing Skills Training Program. We have administered several hundred Hands-On assessments for local industry and delivered two Basic Mechatronics Training classes. Thirty program graduates are currently employed in industry and feedback from their employers regarding performance has been very positive. Scientific Management Techniques' training curriculum trains the critical "Hard Skills" required to operate, maintain and troubleshoot a modern manufacturing facility. We are experiencing increased demand for these highly effective solutions to the manufacturing skills shortage and look forward to engaging with additional manufacturing organizations as the program grows."
Cleveland State has deployed the full suite of SMT's hands-on manufacturing skill assessment programs; the school offers Mechanical, Electrical, Programmable Logic Control, Computer Numeric Control and Process Control skill assessments; the assessment machines are available at Cleveland State's "OneSource Workforce Development Training Center". The assessments are used to identify and measure the "hard skills" required to optimize performance in an industrial facility. Ms. April LaMountain, Workforce Development Coordinator at the school explains, "with the assessment machines local manufacturers have the opportunity to identify the skill set of applicants in the hiring process. Doing so lowers the cost and risk of hiring and drives performance in each facility by on-boarding the skills required. These SMT programs are a real game changer. All of our manufacturing clients in the area are impacted by the skills shortage/skills gap currently plaguing industry in America, the training program and assessment program are solving the problem here in Tennessee."
In addition to working directly with manufacturers in their service area the skills training program is available for the general public. The training program has been delivered by SMT in manufacturing facilities globally for many years. Now, the same program is available in formal education. Ms. LaMountain continues, "the manufacturing skills training program has proven to be highly effective in a challenging environment… the manufacturing facility production floor. Now, the program is available in formal education. This curriculum is 100% demand driven and incorporates the use of over 200 hands-on training aids, students work on the same tools, components and systems they will encounter on the production floor. With this program, we expect to be improving the skill set of the manufacturing workforce in Tennessee for many years."
About Scientific Management Techniques, Inc:
Scientific Management Techniques is the global leader in industrial skills assessments and industrial skills training. SMT's manufacturing skill solutions are currently deployed in thirty-two countries. The skills training curriculum trains to the critical skills required to operate, maintain, and troubleshoot an industrial facility. Their hands-on manufacturing skills assessment machines and assessment protocols are used in the hiring process to identify and measure Industrial Skills; Mechanical, Electrical, PLC, CNC, and Process Control Skills. Many organizations assess their incumbent workforce and deliver targeted training based on the assessment data. http://www.Scientific-Management.com
Contact: Mr. Stephen Berry, SMT President, 603-421-0222;
SBerry(at)Scientific-Management(dot)com
About Cleveland State Community College:
Cleveland State Community College is an accredited public community college serving approximately 3,500 credit students and 1,500 non-credit students. Committed to quality education, Cleveland State operates within the governance of the Tennessee Board of Regents. The 105-acre campus has 10 major buildings that house modern classrooms, laboratories and student activity centers. Additional features include an exceptional library, a multi-media center, computer laboratories, a 400-seat theater, a 3,000-seat gymnasium, athletic fields and tennis courts, a large reflector telescope and teleconference capabilities. In addition to the offerings on the main campus, Cleveland State has offices and classrooms in Athens and Madisonville and offers classes throughout our service area of Bradley, Meigs, McMinn, Monroe and Polk counties.
Contact: Mr. Richard Creasy, Director of Workforce Development, 423-614-8763; RCreasy(at)clevelandstatecc(dot)edu