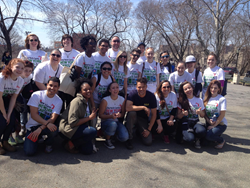 "Although not everyone knew each other, all of the volunteers were united by the common goal of cleaning up a beautiful neighborhood and giving back to our earth." - Maria Giraldo, EHS Student Life Coordinator
(PRWEB) April 25, 2014
Educational Housing Services, Inc. (EHS), the leading provider of private, off-campus student housing in New York City, brought 25 residents together to clean up the Bronx's historic Franz Sigel Park on Saturday, April 12, in collaboration with New York Cares. Residents collectively represented schools such as Baruch College, John Jay College of Criminal Justice, Marymount Manhattan College, New York Career Institute, and Pace University.
The volunteers were pleasantly surprised when they were joined by celebrity Josh Duhamel, who was cleaning up the park on behalf of the brand Advil® and its Relief in Action campaign.
"We were thrilled to have 25 volunteers help clean up one of the Bronx's most beloved areas, which was a great way to support our planet during Earth month," said Maria Giraldo, EHS Student Life Coordinator. "Although not everyone knew each other, all of the volunteers were united by the common goal of cleaning up a beautiful neighborhood and giving back to our earth."
The EHS Team helped by installing jute mesh around trees and removing garbage. EHS provided breakfast, lunch, water bottles, and snacks, as well as sponsored t-shirts for the volunteers.
Learn more about New York Cares at http://www.newyorkcares.org. Learn more about Franz Sigel Park at http://www.nycgovparks.org/parks/franzsigelpark/history. See more pictures from the event at http://on.fb.me/1rqaO7l.
About Educational Housing Services
Educational Housing Services Inc. is a not-for-profit organization that has provided safe and convenient off-campus housing in New York City for college students and interns since 1987. The organization works with many academic institutions and corporations to provide housing for over 10,000 students and interns annually, and also leases to individual students. EHS operates eight student residences in Manhattan and Brooklyn, each of which offers fully-furnished and amenity-rich accommodations that include 24-hour security, a live-in residential staff, laundry rooms, fitness facilities, and an active student life program. For details visit http://www.studenthousing.org.
# # #