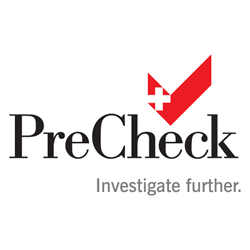 We are thrilled to announce the latest release of enhancements to our online background check system.
Houston, TX (PRWEB) April 27, 2014
PreCheck, Inc., a healthcare exclusive background screening and employment qualification services firm, recently released several enhancements to its core employment background check web-based service. The company's PreCheck™ and PractitionerCheck™ clients have access to a set of new features and enhancements, allowing employers easier access to the information they need for their hiring processes. PreCheck's April 2014 release includes over 10 features and enhancements, including six self-running reports on areas such as background check report volume, expanded visual cues for monitoring the status of reports, as well as the ability for clients to leave notes to communicate with other users on the account regarding individual reports.
"We are thrilled to announce the latest release of enhancements to our online background check system," stated Ryan Trevino, Product Manager for background checks at PreCheck. "With this release, we really wanted to provide our clients with even more tools and better communication through enhanced notifications regarding their background reports."
As a client-focused employment screening firm, most of PreCheck's services were designed in collaboration with clients to address their specific needs. Since 1993, the company has focused exclusively on serving the healthcare industry's unique background screening needs.
"We are committed to listening to our customers as well as anticipating their needs as the healthcare industry evolves," stated Zach Daigle, PreCheck's President and Chief Operating Officer. "We recently celebrated our 20 year anniversary of exclusively serving the healthcare industry, and we are drawing on what we've learned to provide unique enhancements to our background screening user interfaces. We have invested the time to deeply understand the challenges facing our clients during the recruitment, hiring, onboarding and ongoing monitoring phases of their talent management programs. We have been developing new tools to improve the way our customers receive information about candidates and employees, and create efficiencies within these critical processes."
With this release, PreCheck remains committed to improving its suite of background screening and employment qualification products and services. PreCheck's product enhancement road map for 2014 includes enhancements for LicenseManager Pro™ healthcare license management system, as well as StudentCheck™ student background check, SanctionCheck™ exclusion/sanction monitoring, and EmployCheck™ employment verification outsourcing services. For more information about PreCheck's suite of employment screening and qualification services for healthcare employers, call 866-255-9449 or visit http://www.precheck.com.
About PreCheck, Inc.
Founded in 1983, PreCheck, Inc. has focused exclusively on serving the healthcare industry's background screening and employment qualification needs since 1993. PreCheck serves over 3,000 hospitals, long-term care facilities, clinics, educational institutions, and other ancillary healthcare organizations, across the U.S. PreCheck has evolved over time from a background screening provider into a turnkey outsourcing solutions provider, offering a full suite of background screening, compliance, and credentialing solutions all designed to help its clients adhere to the complex laws and regulations governing the healthcare industry. Based in Houston, PreCheck was recognized as a 2013 Inc. 5000 company and has achieved Background Screening Credentialing Council Accreditation by the National Association of Professional Background Screeners.