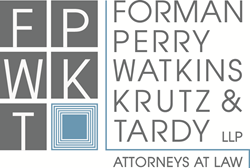 Phillip Sykes states, "This decision sets a precedent that is very beneficial for U.S. Steel to defend similar cases nationally, as well as in California."
Jackson, Mississippi (PRWEB) April 29, 2014
Partners Phillip Sykes, Tim Gray, and Lea Ann Smith convinced the Alameda County, California trial court in Oakland to grant summary judgment to their client, United States Steel Corporation, commonly known as U.S. Steel. With over 100 years of experience, this Fortune 500 Company is a leader in the steel industry. Partner, Phillip Sykes argued U.S. Steel's summary judgment motion before the Court.
The underlying facts are that plaintiff David Johnson ("Plaintiff") alleged that he developed a form of cancer, acute myelogenous leukemia ("AML"), from exposure to chemical products he encountered working as an automotive mechanic, and as a mechanic-hobbyist, generally from about 1970-2012. He sued more than 20 defendants. Specifically related to US Steel, Plaintiff claimed that he used a consumer product to loosen frozen or rusty nuts and bolts called "Liquid Wrench." (See Order dated April 14, 2014 in Johnson v. Armored Autogroup, et al., Superior Court of Alameda County, CA; Case No. RG 13-669270 p.2; herein after, the "Order") Radiator Specialty Company designed, manufactured, labeled, and sold Liquid Wrench. From 1960 to 1978, Radiator purchased a raw material in bulk supplies from U.S. Steel called "raffinate" for use in one formula of its Liquid Wrench product. Raffinate contained varying percentages of benzene. (Order at p.3) Benzene was not – and is not – a banned chemical. In recognition of certain hazards associated with benzene exposure, federal law specifically prescribes the contents of the warning labels on benzene-containing consumer products like Liquid Wrench. Radiator was well aware of such requirements – based on warnings provided by U.S. Steel, its own research, and its knowledge of published Federal Regulations (e.g., the Federal Hazardous Substances Act) – and at all relevant times Radiator labeled the raffinate-formula Liquid Wrench in accordance with such regulations. (Order at p.4-5) Nevertheless, plaintiff claimed that his alleged use of raffinate-formula Liquid Wrench was a substantial factor in contributing to his development of AML. (Order at p.2)
Forman Perry successfully argued that as a mere bulk supplier of a raw material, US Steel was several steps removed from end users like Mr. Johnson, and therefore had no opportunity – and indeed no legal duty – to warn him. Moreover, Radiator was a sophisticated and sufficiently well-informed entity that understood the hazards associated with its Liquid Wrench product and knew the strict federal regulatory scheme that applied to a benzene-containing consumer product. (Order at p.2 and 9) As such, U.S. Steel's duty to warn consumers was discharged when it provided the necessary hazard information to Radiator, and it was entitled to rely upon Radiator to pass such information on to purchasers of Liquid Wrench, consistent with federal requirements. (Order at p.7-8) Even if Radiator had failed to do so – which it did not – US Steel was not liable for any such failure.
In addition to arguing that US Steel satisfied any legal duty to warn vis a vis the bulk supplier doctrine, US Steel also moved for summary judgment on plaintiffs' failure to warn claims based upon federal preemption through the Federal Hazardous Substances Act. Radiator also moved on that basis and the Court granted that motion. (Order at p.6-7)
After the hearing, the Court ordered supplemental briefing to provide plaintiffs the opportunity to argue that benzene is an inherently dangerous product like asbestos to which the bulk supplier doctrine should not be applied. (Order at p.8-9)
In its decision, the Court accepted U.S. Steel's arguments that it satisfied any duty to warn end users through its information provided to Radiator and its reasonable reliance upon Radiator to warn end users like plaintiff. In addition, the Court specifically rejected plaintiffs' allegation that benzene is an inherently dangerous product like asbestos. (Order at p.8-9) Phillip Sykes states, "This decision sets a precedent that is very beneficial for U.S. Steel to defend similar cases nationally, as well as in California."
Forman Perry's win for its client has been reported nationally in Law360 and Harris Martin, links of which are below.
http://www.law360.com/productliability/articles/529291?nl_pk=64ddddac-78a3-4d3e-8885-07175f9d3bda&utm_source=newsletter&utm_medium=email&utm_campaign=productliability
http://harrismartin.com/article/17857/calif-trial-court-awards-summary-judgment-to-us-steel-in-benzene-case-says-defendant-protected-by-bulk-supplier-doctrine/
For more information on this story, please contact Holland Familia, Marketing Manager, at 601-960-8600 or FamiliaHE(at)fpwk(dot)com. You may also visit our website at http://www.fpwkt.com.