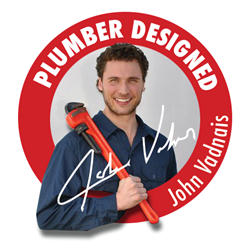 You can save yourself a lot of money and work with this easy product.
Austin, Texas (PRWEB) April 29, 2014
John Vadnais, the face behind Secure-A-Tank, is a 4th generation plumber. John Vadnais and his family invented Secure-A-Tank out of necessity. Being in a family of plumbers, they have seen their fair share of flooding and costly damage due to leaks or cracks in a toilet's tank from movement. Modern toilets have a much smaller tank than toilets of the past. The plumbing for a toilet, even with new construction, is installed to allow room for a full-size tank per building code. A plumber installing a modern toilet with a smaller tank, has no choice but to leave a gap behind the tank. Knowing the risk that presents, many plumbers will place a filler of sorts between the tank and wall for support.
When Secure-A-Tank is installed between the toilet's tank and wall, it acts as a support system by preventing a wobbling toilet and damage from movement. Secure-A-Tank installs easily in four steps and under two minutes. Homeowners are the main buyers and installers of this product and 50% of buyers are women. Secure-A-Tank is affordable, and a one-time insurance policy against damage. We urge you to go check your toilet's tank...is it wobbly?
Secure-A-Tank is available for purchase at Ace Hardware, True Value and HomeDepot.com. John Vadnais will attend the 2014 National Hardware Show in May displaying his one-of-its-kind product.
For more information about the product, please visit http://www.secureatank.com and http://www.youtube.com/watch?v=ObVS-M1JK3E.