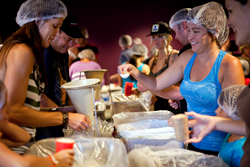 Pascagoula, MS (PRWEB) April 25, 2014
Stop Hunger Now and Eastlawn UMC are joining forces in the fight against hunger. More than 200 volunteers will package meals for the world's hungry on April 27th at Jackson County Convention Center at 2:00PM. Stop Hunger Now meal packaging events are a volunteer-based program that coordinates the streamlined packaging of highly nutritious dehydrated meals comprised of rice, soy, vegetables, flavoring, and 21 essential vitamins and minerals.
"This event is a vision from an ecumenical group of volunteers," says Rev. Clint Ware, Lead Pastor, Eastlawn UMC, "to show that coming together to battle the world's toughest issues is bigger than anything else that separates us."
Around the world, more than 868 million people lack adequate food and more than 25,000 die each day from hunger-related illnesses. Stop Hunger Now operates meal packaging locations in 17 cities throughout the U.S. and international locations in South Africa, Malaysia and Italy. More than 400,000 volunteers from corporations, churches, schools and civic organizations have packaged Stop Hunger Now meals.
Founded in 1998, Stop Hunger Now has delivered aid and disaster relief supplies in the form of food, medical supplies, clothing, school supplies, and more to thousands of disaster victims and other hungry and vulnerable people in 65 countries.
Join Eastlawn UMC volunteers on Sunday April 27, 2014 at the Jackson County Convention Center located at 2502 Ingalls Avenue, Pascagoula, MS 39567 at 2:00PM to help package 100,000 meals.
"What we want everyone to know is that hunger is solvable and is the common thread among the world's most challenging issues. When hunger is targeted, you give leverage and hope to every other cause including poverty, disease, education and the welfare of women and children," said Rod Brooks, President and CEO of Stop Hunger Now.
For more information contact Matt Casteel, Program Manager at Stop Hunger Now at 601-667-4624
For more than 15 years, Stop Hunger Now has been creating a movement to end hunger. More than 100,000,000 meals have been packaged and distributed along with other aid to 65 countries impacting millions of lives. The organization is driven by a mission to end hunger in our lifetime by providing food and life-saving aid to the world's most vulnerable and by creating a global commitment to mobilize the necessary resources.
The Stop Hunger Now meal packaging program was created to give dedicated individuals the opportunity to participate in a hands-on international hunger relief program and to become educated, engaged advocates for the world's poor and hungry. In 2013, Stop Hunger Now packaged 38.6 million meals in the U.S. and International Affiliates packaged an additional 3.3 million meals.
In its efforts to respond to emergency needs around the world, Stop Hunger Now receives and distributes significant donations of in-kind aid. These donations are large quantities of food, medicines, medical supplies and other such items as may be of use in fighting hunger and providing relief in a crisis.