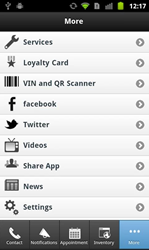 Every owner of an New RV bought at Campkin's RV Centre will receive a Samsung Galaxy Tab 3 loaded with helpful apps and owner's manuals.
Whitby, Ontario (PRWEB) April 26, 2014
Roland Goreski, the New President of Campkin's RV Centre, announced on April 25, 2014 at Campkin's 41st Annual Open House, that every owner of a New RV bought at Campkin's RV Centre will receive a Samsung Galaxy Tab 3.
The Samsung Galaxy Tab 3 is designed to "enhance the customers RV experience and enjoyment" with pre-loaded:

Manufacturer's Owner Manual
All appliance & Component manuals
Campkin's "How-to" documents & checklists
Loads of RV Bookmarks
Numerous RV Apps including Campkin's RV, RV Care, GPS Navigation
The intent is to make RV use easier by putting all the information in the end users hands. Roland says, "We want our customers to have as much information and assistance as possible and by including this 'Virtual RV Resource' we can update them with the newest information keeping their manuals etc. up to date."
With the Operation Manuals Campkin's has actually included more than what is usually in the printed package. "We went online and got the detailed manuals for every appliance and component including many that were not included with the factory manuals. Frame Manufacturer and material care manuals for wood, fabric and other products used in assembly, and we can send out updated information as it becomes available," says Roland.
With the Campkin's App the customer gets a "Loyalty Feature" that issues rewards for purchasing service and accessories from Campkin's. Customers get merchandise and service using the new Loyalty Feature in the Campkins App on the Galaxy Tab 3.
In addition, the new Campkin's RV Mobile website is featured with our online parts & accessory store, accessible anywhere in the world, so getting the latest deals and specials is just a 'click' away.
On the road customers can simply "snap a picture" with the Samsung Galaxy Tab, send it to the Campkin's Service Department to help illustrate the part or servicing issue and get instant advice and/or service location guidance.
With the numerous added apps and bookmarks, Campkin's has taken RV Service to a whole new level.
Another popular app on the Campkin's Galaxy Tab 3 is the RV Care App, linking customers to over 60 Canadian Dealers and over 150 affiliated American Dealers. All Campkin's customers are automatically RV Care members and are welcome at any of these RV Care dealerships while experiencing emergencies on the road.
Campkin's RV Centre is a respected towable RV dealer in Whitby, Ontario, just east of Toronto, and has been serving satisfied customers since 1973. With a full line of towable products, from fold down campers to light weight trailers, and a full selection of full size trailers and fifth wheels, RV enthusiasts will be amazed at the level of selection and features in today's most popular lines. Avenger, Tracer, Lacrosse, Crusader, Sanibel and Spartan by Prime Time RV. Coachmen Clipper Campers and Trailers, R-Pod and Surveyor all from Forest River Manufacturing. Cobblestone by Travel Lite Inc. Also as one of the largest RV Parts & Accessory stores in Ontario, Campkin's RV Centre makes shopping easy with an online shopping cart, apps for Apple and Android mobile devices and a Mobile website that has easy access to all information needed to make an educated buying decision.
For more information contact Roland Goreski, President and G.M., Campkin's RV Centre at 1-888-743-9378.