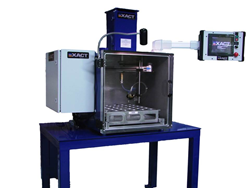 Great System ROI
Newcastle, Maine (PRWEB) April 30, 2014
The new V24 HD "High Density" Vacuum Chamber maximizes the parts loading capability of the chamber increasing the throughput of the chamber in high performance potting applications such as automotive, aerospace and medical. The UNIQUE overhead swing arm reaches into each corner of the chamber allowing a square tray of parts to be potted leading to significantly increased chamber load capacity. The resulting increased production leads to an easy and early payback for the investment.
The V24HD is typically fed from an EXACT Dispensing Meter Mix Dispenser such as the industry leading 9450 SA or DA model metering systems. The use of the 9450, the highest output MMD of its type in the industry, maximizes the performance of the chamber by offering virtually uninterrupted material flow.
Dispensing within a rectangular arrayed VC24 vacuum chamber is maximized with the unique overhead Coaxial XY dispense strategy. Dispensing in the corners is now possible, maximizing per square foot loading, more thru put than with our traditional indexing rotary dial. More usable space when compared to typical internal Cartesian XY products.
The V24HD can be purchased individually for production upgrades or as part of a fully integrated turnkey solution from EXACT. The full turnkey solution typically includes tray conveyor accessories, HMI controls and complete system wet test and commissioning at the factory in Maine.
The Vacuum Chamber is also available with manual motion controls including a 22" rotary platen and overhead swing arm for positioning and dispensing into the part. The V24 Chamber has 24" x 24" x 24" nominal size constructed out of rugged aluminum with a robust 2" thick clear Acrylic front door.
Contact EXACT Dispensing Systems to determine if the new V24 HD Vacuum Chamber can provide a fantastic ROI for your operations.