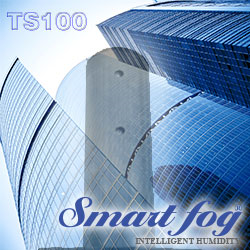 Humidity engineering is by far one of the most complex sciences in climate control
Reno, NV (PRWEB) April 25, 2014
Smart Fog Inc has announced that it will be presenting at the Data Center World Global Conference in Las Vegas, NV, scheduled for April 28 through May 2, 2014.
The company, which specializes in non-wetting humidification for use with sensitive equipment, will present a working system for data center cooling and commercial humidification at the conference.
Smart Fog's humidification system has many unique features. It uses 50%-70% less energy to generate humidity than other technologies, while offering precise humidity control. Smart Fog also provides unique systems for evaporative cooling: the Smart Fog nozzles generates a strong vacuum, which cools both the air and the water. This double cooling effect ensures that the output is always the same temperature, regardless of the input temperature.
The non-fluctuation feature in the Smart Fog humidification system ensures that the humidity will remain constant with less than 2% of relative humidity fluctuation. In addition, the system offers 100% dust suppression, plug and play installation, an extended warranty, and no moving parts.
"Humidity engineering is by far one of the most complex sciences in climate control. With the Smart Fog system, users receive reliable, low maintenance, and economical humidification. We are excited about the Data Center World Global Conference opportunity, and we are looking forward to discussing our product with attendees," says Ido Goldstein, Director at Smart Fog.
Smart Fog offers the ES100 Series for in-room, and the TS100 Series for in-duct applications.
About Smart Fog Inc.
In business since 1980, Smart Fog Inc. is the recognized world leader in non-wetting commercial and industrial humidification solutions. Smart Fog's unique technology provides precise humidity enforcement, light speed uniform coverage and intelligent non-fluctuating humidity control. All Smart Fog products are all engineered and manufactured in the USA. Smart Fog staffs a full range of engineers to advise commercial printers, in-plants, and manufacturers on humidity management and environmental control for operation efficiency and employee comfort.
For more information, visit smartfog.com.