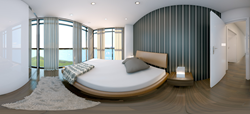 You are not going to find a better view, and a more luxurious building anywhere in Grimsby, or Stoney Creek
Grimsby, Ontario (PRWEB) April 25, 2014
Waterview Condominiums, by LJM Developments, are ready for a big Grand Opening on Saturday, May 3, 2014 (10:00 AM – 7:00 PM). With thousands of registrants, the day will attract a number of buyers from the Greater Toronto Area (GTA). Waterview Condominiums offers 75 lake-facing condominiums that include one-bedroom, two-bedroom, and penthouse suites. With resort-like amenities, the modern lakefront condominiums will be the highlight of Grimsby waterfront living.
Waterview Condominiums will feature a 20,000 square foot roof terrace for residents to enjoy Lake Ontario views from the comfort of an outdoor garden area with private cabanas and fireplaces. Residents will also have access to barbecue stands, and a hot-tub Jacuzzi. With other amenities that include underground parking, a guesthouse, concierge services, a fitness center and a large party room, new owners will be pampered as if living in a five star resort. "Waterview Condominiums provides a perfect blend of urban amenities in a charming small-town setting," says Shaheryar Mian at LJM Developments.
With the extension of the GO train from Toronto, as well as the 407 ETR nearby, Waterview condominiums are well positioned to appeal to couples and retirees who want access to the big city yet live in a quieter community. With close proximity also to Niagara Falls, and the Niagara Wine region, living at Waterview will provide a central base to venture into one of Ontario's most sought-after regions.
The building offers unparalleled views of Lake Ontario from its substantially elevated condominiums that offer floor-to-ceiling windows and balconies. "You are not going to find a better view, and a more luxurious building, anywhere in Grimsby, or Stoney Creek," says a recent buyer. As with LJM's other developments, the building will be constructed with upgraded fixtures, which include marble counter tops, and stainless steel appliances.
As a boutique builder, LJM Developments has a successful history of building high-profile condominium developments in growth pockets in every city it has entered. LJM maintains a promise to quality that is witnessed in its recent Ironstone Condominium development (Burlington city's tallest), and Uptown Center in Burlington. Young families and retirees from the Grimsby and surrounding area have expressed a lot of interest and excitement about the prospects of Waterview's contemporary architecture with cottage-like comfort on the lakefront.
LJM Developments recently hosted exclusive appointment sessions for its clients, brokers, and early-registrants to offer the very first sneak previews of the condominium development's floorplans, and renderings. "We are very encouraged by the demographic of buyers that Waterview appeals to. Our development attracts a seasoned buyer with a refined lifestyle choice for upscale living. We have seen a great mix of retirees, single parents, and young couples at our exclusive presentation sessions where we received invaluable feedback, and praise for our upcoming development. We are very excited for the Grand Opening day," says a spokesman from LJM Developments.
With a solid concrete structure unlike anything else available in Grimsby, Waterview Condominiums will become the most sought after lakefront property in the town. RSVP today for the May 3rd Grand Opening day by visiting the project website: http://www.waterviewcondos.ca.
About LJM Developments
With over a decade of unsurpassed excellence, LJM Developments is a recognized industry leader in real estate development. The company has developed highly-acclaimed signature projects that are a perfect synergy of world class architectural design and cutting-edge construction quality. The company has launched key initiatives in Southern Ontario, including Toronto, Burlington, and Grimsby.
For more information about the much-anticipated Waterview Condominiums or to initiate the registration process, please visit http://www.waterviewcondominiums.ca.