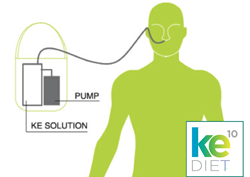 Houston Texas (PRWEB) April 29, 2014
"Knowing how difficult it is for people to stick to a weight loss program, our goal is to always have easy programs to follow through personal coaches and lots of hand-holding. The KE Diet fits very well into our portfolio as it is very effective and easy to complete," said Dr. Michael Morris, medical director of Novopelle. "Although a bit jarring at first, the unique approach of the KE Diet solves the biggest problem of any weight loss programs. Cheating. The KE Diet makes it impossible to cheat due its delivery method."
The KE Diet is a revolutionary weight loss program where patients wear a feeding tube, thinner than a spaguetti for 10 days. This tube is connected to a small feeding bag and pump. Patients are fed a proprietary solution which induces ketosis in patients.
Ketosis is a state where your body consumes fat for energy instead of other sources like sugars and carbohydrates. Muscle is preserved and patients typically lose 1-2 pounds per day. The KE Diet is intended to be a jump start and motivator to continue on a weight loss program.
Novopelle has been working closely with the team behind the KE Diet, to ensure this innovative program is implemented seamlessly with its current weight loss offerings and to meet the expected demand. Novopelle currently offers weight loss programs starting at $69, which include its own private label line of supplements. On higher priced weight loss programs, patients benefit from Novopelle's in-house payment options or financing via Care Credit.
Novopelle added weight loss to its existing line of services, laser hair removal and anti-aging, due to patient demand. "We know people constantly struggle with weight and when demand was high we simply had to provide it for them. They already trusted us with their skin care so adding a service that involves much more personal interaction made perfect sense for us. We like to think that we are not just a med spa or a weight loss clinic, but a transformation destination. We have a wide range of services and products that help people find their beauty," says Ritter H Vonali, marketing officer at Novopelle.
About Novopelle
At Novopelle we believe in the philosophy that beauty is for everyone - It's not a luxury. Why should the latest medical cosmetic technologies only be available to a select few when everyone else needs them just as much? Novopelle is here to provide you a rejuvenating and fulfilling experience by making beauty affordable, accessible and unique. Everything from the visual stimuli to the ambient sounds were developed so you can have a truly transformational experience.
You are invited to come meet our professional team of beauty consultants where we'll take you through the Novopelle experience. Trust us. You'll love it.
Novopelle. Find your beauty again.
Media Contact
Ritter H Vonali
214 986 7351