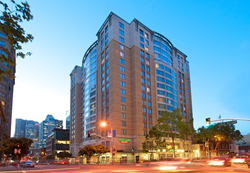 PURE Rooms provide us with another opportunity to ensure the wellbeing and comfort of all our guests.
San Francisco, California (PRWEB) April 29, 2014
The Courtyard by Marriott San Francisco Downtown, located in the city's eclectic SoMa district, has recently added 17 hypoallergenic hotel rooms by PURE Solutions. The Courtyard San Francisco joins a growing number of hotels looking to provide allergy-friendly accommodations for today's travelers.
PURE Rooms are treated according to a patented 7-step process that kills and protects against 98-100% of viruses, bacteria and other harmful irritants. PURE technology creates an environment that is more comfortable for asthma and allergy-suffers and also provides a more refreshing and rejuvenating experience for all hotel guests.
With more than one in three hotel bookings reporting allergy or asthma symptoms, allergies are the fifth-leading chronic disease in the United States and a serious obstacle for many people when they travel.
Courtyard San Francisco General Manager Debbie Bonafede believes PURE Rooms can play an important role in addressing allergy travel needs for this growing segment of the population.
"We are eager to provide visitors to San Francisco with the highest-quality service and accommodations that are tailored to their personal needs," she said. "PURE Rooms provide us with another opportunity to ensure the wellbeing and comfort of all our guests."
Brian Brault, CEO of PURE Solutions, emphasized the importance of allergy travel considerations in the hospitality industry and his enthusiasm for the Courtyard San Francisco' Downtown's efforts to solve these problems.
"Health and wellness is a big concern for many people traveling today," said Brault. "We are excited to partner with the Courtyard San Francisco in helping to make travel easier and more comfortable for everyone."
About PURE Solutions
PURE Solutions utilizes state-of-the-art purification technology to create allergy-friendly environments that are 98-100%-free of viruses, bacteria and other harmful airborne particles. Each PURE Room is comprehensively treated to remove allergens and irritants from all hard surfaces, fabrics and air. To learn more about the PURE process and to book a room at one of their 300 partnering hotels nationwide, visit pureroom.com.