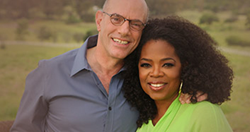 "This is going to be an event of a lifetime, and I'm so thrilled to be taking the stage with this amazing group of people." — Mark Nepo
(PRWEB) April 25, 2014
Mark Nepo, author of the bestselling Viva Editions title of the year Reduced to Joy, is pleased to announce that he will be joining Oprah's The Life You Want Weekend Tour! Mark will be LIVE on stage with Oprah and other handpicked life trailblazers, such as Deepak Chopra, for this enlightening 2-day event in select cities. From teaching to conversation, to music, laughter, and breathtaking moments, this will be an unforgettable life experience. Tickets are on sale now!
Oprah creates and leads an all-new weekend experience, an unprecedented arena tour that will engage, encourage, and empower. Not only will attendees see the possibilities of a new life—the life they want—they'll leave transformed and ready to take charge and make it happen.
AUBURN HILLS, MI
SEPTEMBER 12-13, 2014
Join Oprah and Mark at The Palace of Auburn Hills for Oprah's The Life You Want Weekend.
WASHINGTON, DC
SEPTEMBER 19-20, 2014
Begin the journey. Share in Oprah's The Life You Want Weekend at the Verizon Center.
NEWARK, NJ
SEPTEMBER 26-27, 2014
Experience Oprah's The Life You Want Weekend at Prudential Center in Newark.
SEATTLE, WA
NOVEMBER 7-8, 2014
Begin the life you want as part of Oprah's The Life You Want Weekend at Seattle's KeyArena at Seattle Center.
Mark Nepo moved and inspired readers and seekers all over the world with his number one New York Times best-seller The Book of Awakening. Beloved as a poet, teacher, and storyteller, Mark has been called "one of the finest spiritual guides of our time," "a consummate storyteller," and "an eloquent spiritual teacher." His work is widely accessible and used by many and his books have been translated into more than twenty languages. A bestselling author, he has published fifteen books and recorded nine audio projects. Recent work includes The Endless Practice (forthcoming from Atria, August 2014), Reduced to Joy (the book from Viva Editions and a box set of teaching conversations from Sounds True, September 2014) and Seven Thousand Ways to Listen (Atria), which won the 2012 Books for a Better Life Award. Mark has appeared several times with Oprah Winfrey on her Super Soul Sunday program on OWN TV. Mark devotes his writing and teaching to the journey of inner transformation and the life of relationship. He continues to offer readings, lectures, and retreats.