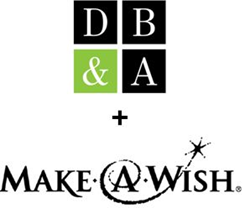 With nearly 75% of wishes involving travel, our need for airline miles is critical.
Dallas, TX (PRWEB) April 28, 2014
Jordan's Make-A-Wish adventure started long before he caught a glimpse of his first wild kangaroo: Stepping onto the jet way for his first intercontinental flight was the true beginning of his wish experience.
Many wishes like Jordan's come true with help from frequent fliers. In 2014, DeWolff, Boberg & Associates (DB&A) has teamed up with Make-A-Wish. DB&A employees are donating unused airline miles which are essential to getting wish kids to their destinations. Employees who fly on Delta, United, and US Airways are effortlessly donating frequent flier miles, in just a few easy steps, by visiting the Make-A-Wish website.
By the end of the 1st quarter, DB&A employees have donated almost 50,000 miles. These donated miles never expire and are never used for anything other than wish travel. The corporate goal is 250,000 miles.
"With nearly 75% of wishes involving travel, our need for airline miles is critical," said David Williams, president and chief executive officer for Make-A-Wish America. "Donating airline miles provides an alternative way for supporters of Make-A-Wish to help grant wishes without ever opening their wallets." In fact, the numbers add up quickly – Make-A-Wish needs 2.5 billion airlines miles to grant 10,000 wishes each year that involve travel – most of them in the summer.
Some estimates show there are more than 16 trillion frequent flier miles that go unused each year and some 25 percent of people let their miles expire or at the last minute use miles for magazine subscriptions or a one-time upgrade. The impact of a wish can last a lifetime. In fact, medical professionals say wish experiences can improve children's states of mind, can make them more willing to comply with treatment requirements, and can even improve their physical health. Former wish kids have indicated that their wish experiences improved their health and strength, gave them more confidence and the will to pursue more challenging life goals, made them more philanthropic and compassionate, and even helped save their lives.
About Make-A-Wish
Make-A-Wish® grants the wishes of children with life-threatening medical conditions to enrich the human experience with hope, strength and joy. According to a 2011 U.S. study of wish impact, most health professionals surveyed believe a wish-come-true can have positive impacts on the health of children. Kids say wishes give them renewed strength to fight their illnesses, and their parents say these experiences help strengthen the entire family. Based in Phoenix, Make-A-Wish is one of the world's leading children's charities, serving children in every community in the United States and its territories. With the help of generous donors and more than 25,000 volunteers, Make-A-Wish grants a wish somewhere in the country every 38 minutes. It has granted more than 240,000 wishes since its inception in 1980; more than 14,000 in 2013 alone. Visit Make-A-Wish at wish.org to learn more.
About DeWolff, Boberg & Associates (DB&A)
DeWolff, Boberg & Associates (DB&A), founded in 1987 by Lou DeWolff and Tim Boberg, is a global management consulting firm specializing in helping companies of every description achieve objectives through improved performance and resource utilization. Working with every level of management, DB&A focuses on organizational and cultural issues, with a special emphasis on developing accountability and leadership at the employee and front-line supervisory levels. Celebrating its 27th year in business, DB&A provides consulting services to a variety of clients worldwide.