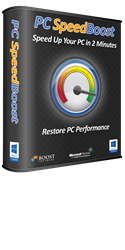 'There are so many programs that try to trick or jury-rig Windows to get faster performance,' says Boost President and Co-Founder Amit Mehta. 'We thought it made more sense to work with Windows to speed up the computer.'
Boston, MA (PRWEB) April 25, 2014
Boston-based Boost Software is pleased to announce the unveiling of its latest PC optimization software, PC SpeedBoost™. The consumer software, released on April 5, was constructed to work with Windows® to give users a faster computer.
"There are so many programs that try to trick or jury-rig Windows to get faster performance," says Boost President and Co-Founder Amit Mehta. "We thought it made more sense to work with Windows to speed up the computer. Aside from being more efficient, it can also help prevent compatibility issues and outright disasters."
The new software was designed to work with Microsoft Windows on a number of levels. It works with the operating system to control which programs run at startup. This step increases startup speed for most Windows computers. For those same computers, it tends to quicken overall performance as well.
"There are a lot of non-essential programs that run at Windows startup," says Erin Walsh, Director of Public Relations at Boost Software. "They typically run in the background afterwards, which slows down the entire computing session. Our team designed PC SpeedBoost to fix that."
For computer owners who wish to enable the feature, the software also works with Windows to optimize for speed and performance over appearance. This option cuts down on system graphic "special effects." Using this option, Windows can look somewhat more angular and less "smooth" or "slick," but the overall result is improved performance and speed.
The program also features a CPU Resource Monitor & Manager to help prioritize CPU tasks. This feature was designed to get the most efficient use out of the Computer Processing Unit. The more processes that run on a Windows computer at one time, the more visible a difference this feature makes.
PC SpeedBoost also performs PC optimization tasks, such as dealing with Windows indexing, and detecting and fixing corrupt, duplicate, and missing files in the Windows registry. These file problems can be responsible for anything from Windows error messages to screen freeze to computer crash.
"It does just about everything a registry cleaner does, and then some," says Mehta. "Ultimately, PC SpeedBoost is a multi-functional computer tool that makes computers run faster and more safely."
Boost Software was founded by Amit Mehta and Peter Dunbar. The two business partners said they saw opportunity: In a field of "fly by night" vendors and PC optimization software with little support, the two felt they could stand out by offering a robust software with product-educated, native-English speaking support available 24/7. PC SpeedBoost is one of many of the company's planned releases for 2014. More information is available at http://boostsoftware.com.