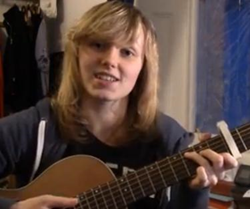 (PRWEB) April 24, 2014
Beth starts off this easy acoustic guitar lesson saying that you will need to use a capo on the third fret to be in the correct key. Next Beth explains the chords that are used in the song as follows; C, G/B and Am7 (A minor 7) and Beth also demonstrates how to play the later two chords for the benefit of the players who are not familiar with those two chords. "The best thing about this song is that it is one chord pattern all the way through and one picking pattern all the way through", says Norman. Beth explains the chord progression as follows; C G/B Am7 G/B. Next Beth demonstrates how to play the picking pattern as follows; string's 5 then 3 then 4 then 2 then 3 then 4 and then 3 again. Beth says that this picking pattern is played once for each chord. Beth continues this easy guitar lesson by performing the song so you can easily follow along with her. Complete chord charts and guitar TAB's are available for this acoustic guitar lesson at SongTabs.com.
A Capo, short for capotasto, which is Italian for "head of fret board", is a device used on the neck of a fretted instrument to shorten the playable length and raise the pitch.
Fleetwood Mac is a British-American rock band formed in London in 1967. The band has had numerous lineup changes leaving only one original member, drummer Mick Fleetwood, and this has caused the style and sound of the band to transition numerous times over the years. Since the bands inception they have released 17 studio albums that have sold over 100 million unit's world wide. In 1998 they were inducted into the Rock and Roll Hall of Fame.
Beth Norman
Started playing the guitar at the age of 15 and started her first band only after 3 months of playing. She put up her first YouTube tutorial video in 2009 and has gained 40,000 subscribers and over 8 million views and counting.
About SongTabs.com
SongTabs.com is a great online resource for learning to easily play your favorite songs on the guitar. With several great instructors and a constant growing catalog of songs, everyone can learn to play there favorite songs.