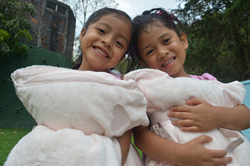 It will help mission teams, most of whom come from the United States, determine needs before traveling to Guatemala.
Guatemala City, Guatemala (PRWEB) April 28, 2014
Hundreds of volunteers who visit an orphanage in this Central American city annually can help Dorie's Promise through its new online gift registry. Forever Changed International founder Heather Radu says that after its recent soft launch, the registry is fully functional. It will help mission teams, most of whom come from the United States, determine needs before traveling to Guatemala.
"Our current list identifies seven priorities," says Radu, who has been involved in ministry to orphans for two decades, including 15 years in Guatemala. "The most expensive is a Toyota microbus ($36,000) that will provide much-needed transportation for volunteers, staff members, and children. The lowest-priced item ($246) is a supply of size 2 diapers."
A team from Northwest Community Church in Mundelein, Illinois, that visited in mid- March made a generous donation that included the first gift for the registry — $460 toward a computer lab expected to cost $3,340. Donations earmarked for a particular project will be combined with others. If the ministry receives additional funds after reaching the goal for that item, it will ask givers to identify another priority for their donations.
Radu says the registry will simplify the process of mission teams' trip planning. Until now, numerous teams had to contact the home office to ask about current needs in Guatemala. Besides the seven priorities, the registry page contains suggestions of other needed donations, such as appliances, clothing, shoes, children's toys, and educational supplies.
In addition to this site, FCI is working on a group registry for community improvement projects in Guatemala City that will allow teams to plan that work in advance. This can involve such tasks as installing bunk beds, pouring a cement floor in someone's home, or installing a pila, a watering station used to wash clothes and dishes. The ministry hopes to have the group registry ready by early summer.
"Both registries will save teams time and the logistical problems of transporting donations, since online gifts allow staff in Guatemala to purchase these items locally," Radu says. "After hosting 313 visitors last year, we anticipate 470 of these missionaries will travel to Guatemala City during 2014. In addition, several dozen Guatemalan volunteers donate their time each year to help with benevolence projects at Dorie's Promise."
Located in Guatemala City, Dorie's Promise is an orphanage providing full-time care, housing, education, and other amenities for up to 40 children. The home operates on donations and grants, primarily from sources in the United States. It is operated by Forever Changed International (FCI), with headquarters located in the metro Portland, Oregon, area. Founded in 2009 by Heather Radu, FCI is dedicated to rescuing orphans and providing them with a safe, nurturing environment. For more information, contact Radu at 360-335-3125 or e-mail heather(at)servewithfci(dot)org.