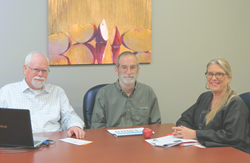 Blossom Protect™ has consistently yielded results at a level comparable to antibiotics.
Vista, CA (PRWEB) April 26, 2014
As the National Organic Standards Board plans to meet next week to determine whether to grant an extension of streptomycin use for fire blight control, growers and others in the industry are questioning the proposal's impact and wondering whether there are adequate tools to control the disease without antibiotics.
In a current round-table discussion on fire blight disease, found at http://www.westbridge.com, Westbridge President, Tina Koenemann, discusses current organic fire blight control options with Dr. Larry Parker, Director of Research & Development, and Dr. Andy Hudson, Plant Pathologist and Senior Research Scientist. Currently, non-antibiotic organic options for fire blight control include fixed coppers, pruning and thinning trees, and biocontrol products.
There are compelling arguments made by proponents for both sides of the proposal concerning the expiration of the use of streptomycin. Streptomycin is synthetic, has documented resistance, and can negatively impact epiphytic and soil microflora beyond the target organism. On the other hand, fire blight is a devastating and destructive disease that under optimum environmental conditions can decimate orchards.
Blossom Protect™ is one of the most effective alternatives to antibiotics available, whether used by itself or as part of an integrated pest management program. The active ingredients in Blossom Protect™ are two proprietary strains of a yeast-like fungus named Aureobasidium pullulans, naturally-occurring epiphytes in pome fruit orchards. Blossom Protect™ works to prevent fire blight disease from infecting trees, and use rates are based on the populations needed to achieve consistent or reproducible results. Applications do not affect bees or beneficial insects.
In seven years of university and grower trials, Blossom Protect™ has consistently yielded results at a level comparable to, and often better than, antibiotics. Although the product is approved for certified organic production, conventional growers have turned in growing numbers to Blossom Protect™ due to streptomycin resistance. With its demonstrated efficacy, organic approval, and pollinator and worker safety, Blossom Protect™ represents a valuable product to combat fire blight.
For questions about Blossom Protect™ or the Westbridge product line, please call (800) 876-2767 or visit http://www.westbridge.com.