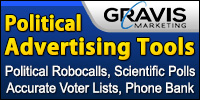 According to Doug Kaplan President of Gravis Marketing, this poll is good news for Senator McConnell, he has a strong primary challenger and general election opponent, he has a commanding lead.
Winter Springs, FL (PRWEB) April 26, 2014
Human Events and Gravis Marketing conducted a random telephone survey by automated phone calls to landline phone numbers of 1,359 registered Kentucky voters regarding current events, including potential presidential and senate candidates between April 15-17-2014 The poll carries a margin of error of ± 3%.
Senate Minority Leader Mitch McConnell has been viewed as a threatened incumbent by elements in his own party who feel has lost his Conservative credibility by compromising too much in the Democratic controlled Senate and by a bona fide Democratic challenger in Kentucky Secretary of State Allison Lundergan-Grimes. Polling data indicates that in a prospective race against the Democrat McConnell enjoys a 7-point advantage over Grimes-Lundergan and an even more significant advantage over Republican primary challenger Matt Bevins (51% to 34%).
Highlights of the poll include:

Republican voters were asked, "If the Republican primary were held today, would you vote for Matt Bevin or Mitch McConnell?" Senator McConnell holes a significant advantage over Republican primary challenger Matt Bevin by 51% to 34% margin with 15% indicating uncertainty.
Voters of all parties were polled, "If the race for election for US Senate were held today, would you vote for Republican Mitch McConnell, Democrat Alison Lundergan-Grimes, or Independent Ed Marksberry?" Senator McConnell maintained a seven-point lead over prospective Democratic opponent Allison Lundergan-Grimes. 43% to 36% with 12% reporting they were uncertain.
When looking at these data along party affiliation as expected Lundergan-Grimes' support was largely among Democrats (70.4%) with 28.2% of support among Independents. Senator McConnell enjoyed 64.8% of support from Republican voters with a larger Independent support bases than Grimes-Lundergan at 35.6%.
When asked about a prospective general election with Matt Bevin running on the Republican ticket instead of Senator McConnell, Lundergan-Grimes gains an advantage in the race at 37% to 32% with 25% reporting uncertainty.
When asked, "Is Senator McConnell as conservative today as he was when he first ran for the Senate?" Among voters of all parties 37% indicated that Senator McConnell was not as conservative with 32% stating uncertainty and 32% indicating that he had maintained his conservative values.
When all voters were asked, "Has Senator McConnell done enough to end Obamacare?" 46% indicated that he was not done enough, 29% stated he had opposed the law sufficiently while 25% were uncertain.
Gravis Marketing is an award-winning public relations and political advertising firm with a clientele including political campaigns, public affairs organizations, consultants, and nonprofit organizations all across the globe. Founded in 2010 by Doug Kaplan, Gravis Marketing is an industry leader in innovative turnkey campaign solutions specializing in innovative call center technologies. Gravis conducts the telephone surveys with Human Events