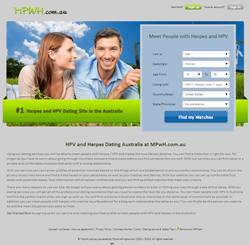 An Online Dating Site for People with Herpes, HIV and HPV in the Australia!
Los Angeles, California, USA (PRWEB) May 08, 2014
MPwH.com.au is an online dating site special for people with Herpes, HIV, HPV and any other STD, it was created for people from Australia. MPwH is an acronym for Meet People with Herpes, HIV and HPV.
Based on a report from STI.Health.gov.au, there were around 70,000 reported cases of STIs in Australia in 2008 – 13 per cent more than in 2007, and it's young people who are most at risk. Three quarters of known cases occur among people aged between 15 and 29 years.
"MPwH is very helpful and useful for people who are living with STD in the Australia." Said Jeffery, the founder of MPwH. "It is not just a dating site for people to look for dating and romance, but also a support group where people can get help from our counselor and members."
"STD Inspiration Stories" is an excellent feature on MPwH, it`s available for people to read these stories after they have joined this website, in this way, they may increase their confidence in starting dating again. In addition, the site has many unique features for members to search and connect. People on this website can search by the type of STD and state/city to meet potential spouse.
"MPwH.com.au will update information and features everyday to ensure it is an useful and effective dating site. Our team believes that it will be one of the best dating sites for people with STD in the feature. " Said Jeffery.