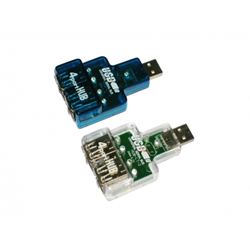 (PRWEB) April 28, 2014
Hiconn Electronics, the well-known computer accessory manufacturer, has recently announced its new arrivals: top quality 4-Port USB 2.0 Hubs. In addition, all these fresh items are available at discounted prices, up to 30% off. Customers who want to buy cheap hubs can visit the company's website now.
Online shopping is a fact of modern life; this is why Hiconn Electronics wants to make its website a one stop place for worldwide distributors to get affordable computer accessories. The company is now providing a lot of inexpensive items at its online store. All of them are made with great materials and provided at reasonable materials. By launching the current sale, the company intends to bring huge benefits for all distributors.
True enough, the company has dedicated several years to offering excellent computer accessories and great online service. It wants to expand its market share and popularize its brand new hubs. Now, it has become one of the most influential companies in the global market.
Some details about the company's new versions of 4-Port USB 2.0 Hubs are as follows:
High-Speed USB (480 Mbps) & USB 1.1 (12Mbps)
--Compliant with USB 2.0 specification
--Compliant with USB specification rev. 1.1
--Equipped with over-current detection & protection
--Plug and Play
--1 upstream port & 4 downstream ports
--Support Windows ME / 2000 / 2003 / XP / Vista / Windows 7/8 and Mac OS 10.x
--Support various Linux kernels
About Hiconn Electronics
Hiconn Electronics (Shenzhen Hiconn Electronics Co. Ltd.) is devoted to designing and manufacturing a wide range of connection cables and customized cable assemblies, offering many HDMI cables, VGA cables, SATA cables, USB cables, 1394 cables, DVI cables, SCSI (Small Computer System Interface) and more. For more information, please visit http://www.hiconn.net/.
Contact Person: James Yin (Sales Director)
Company Name: Shenzhen Hiconn Electronics Co., Ltd.
Address: Shenghua Building., Xixiang Road., Baoan District, Shenzhen, Guangdong Province, China
Zip Code: 518102
Tel: +86-755-8109 8345
Fax:+86-755-2779 3497