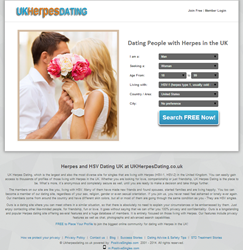 Dating People with Herpes in the UK!
Los Angeles, California, USA (PRWEB) May 11, 2014
UKHerpesDating.co.uk is a newly launched dating site for people with Herpes (HSV-1 and HSV-2), and it caters to herpes singles come from the UK.
Based on a report from the Herpes Virus Association, in the UK, it's estimated that about 60% of adults test positive for HSV-1 antibodies, whereas about 10% test positive for HSV-2 antibodies. There are approximately 75,000 new cases of HSV diagnosed by GPs in the UK each year.
"There are a large number of people with Herpes in the UK, so we created this dating website for singles to start dating again," said Derek, the founder of UKHerpesDating.co.uk. "This is a warm-hearted online community since all members are going through the same condition, and the site is a place free of discrimination where people can express themselves."
Join this site is easy and free, user can post a title and some information about themselves, but it will not ask people to submit any information that they are not comfortable with. It`s available to upload no less than 26 photos on the site, and it can be set as private.
About UK Herpes Dating
UKHerpesDating.co.uk is an online dating site special for people with Herpes, and it was established in March 2014. With more and more people have joined the site to make is as one of the most popular Herpes dating sites in the UK.