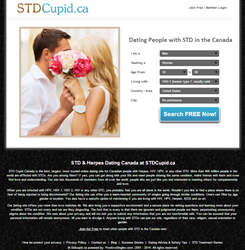 An Online Dating Site for People with Herpes, HIV, HPV and any other STD in the Canada!
Los Angeles, California, USA (PRWEB) May 12, 2014
STDCupid.ca, a dating site was designed to provide dating service and support for people with STD, has officially launched.
When people have Herpes (HSV-1, HSV-2), HPV, HIV or any other STD, it can make them feel like they are all alone in the world, so the site hopes to serve as an online dating agency for people with STD finding support and meeting new friends. In addition to an informative "STD Q & A" section that highlights the solutions of emotional and physical problems, the site also provides online STD chat rooms for members to chat with other people who share their conditions.
It's absolutely 100% free to try out STDCupid.ca and find STD singles in its huge private community of 100% like-minded people - all of whom are living with various STDs. There is no obligation to stay and members can cancel at any time, no questions asked.
About STDCupid.ca
STDCupid.ca is dedicated to providing dating service and support for people with any type of STD in the Canada. In addition to informative online content, the site also offers 24 / 7 phone and live support.