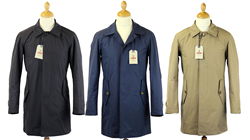 The raincoat is also ideal for spring weather, where you may still need to carry a coat with you, but you don't want to be lugging anything too heavy.
Scarborough, North Yorkshire (PRWEB UK) 29 April 2014
It's a retro 'return of the Mac' this season as online retailer, Atom Retro reports a big rise in demand for raincoats in spring 2014. The demand has been reflected in a increase in Atom Retro's sales for this type of garment. Atom Retro Buyer, Alister Poulton explained, ''The raincoat has become a real all rounder and a jacket for any occasion. We've seen the raincoat trend growing for a couple of years now. This season we've got more brands adding this sophisticated clothing staple to their outerwear offer."
Key pieces in the Atom Retro collection include the Peter Werth 'Canyon' slim fit raincoat and the re-introduction of the Baracuta made in England raincoat.
Baracuta, originally a manufacturer of raincoats and outerwear, became famous for Harrington jackets (designing and producing the first ever Harrington jacket in 1937). The three new raincoats included in this seasons collection is a return to Baracuta's roots, and also a clever adaptation of the famous Baracuta G9 style, incorporating the iconic Baracuta Fraser tartan lining, the 5 point vented reverse and the Harrington style pocket feature.
"The Baracuta raincoat has proved popular with mods and Baracuta fans alike," Alister says. "Hopefully this is something which Baracuta will be continuing with going forward, and it's definitely something Atom Retro will be stocking." The Baracuta raincoat is available in 3 colours - navy, dark navy and tan and retails for £389.00.
The raincoat is a timeless style. A simple, sharp and practical garment that is often associated with a more refined and tailored style. The contemporary raincoat can be de-constructed and aimed at more of a casual look with garment dye, vintage washed fabric techniques and hints of distressed military influence.
"For us the raincoat trend kind of sits hand in hand with the increased interest in Ivy League attire. We've seen a marked increase in search traffic for both terms and because the Ivy Look is something that we love, we can spend time tailoring a whole look and outfit around the raincoat that conforms to Ivy league fashion ideals," Alister says. "The raincoat is also ideal for spring weather, where you may still need to carry a coat with you, but you don't want to be lugging anything too heavy."
As adverse weather in the spring/summer season sees conditions fluctuate between rain and shine, having a raincoat in your clothing repertoire is something of a must.
Raincoats are light, comfortable, timeless and effortlessly stylish. Let's face it. The UK is bound to see a fair bit of rain this Summer. So why not take to the streets with a smile on your face, a tune in your head, try 'Singin' in the Raincoat', a twist on the Gene Kelly classic and deck yourself in a cool Retro raincoat, the very epitome of tailored style.
About Atom Retro:
Atom Retro is a UK leading clothing retailer, boasting the largest range of authentic, high quality retro and mod clothing for men and women online. The Atom Retro range is inspired by the Carnaby Street boutiques of the sixties and includes an ever growing list of iconic brands and original, independent designers. Browse Atom Retro's extensive range of retro and mod clothing at http://www.atomretro.com.