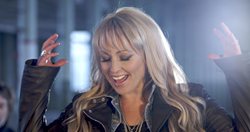 Rebecca Bains - lighting up your life
(PRWEB UK) 28 April 2014
Queen of Northern Country Rock Rebecca Bains has caught the attention of the industry on both sides of the Atlantic with her soaring earthy vocals and pop lyricism.
It is a sound that has already garnished thousands of social media followers from both the UK, the USA and across the globe despite only releasing her first track, Hard Road, this week (Watch Hard Road on YouTube).
The daughter of an Opera singer, she cut her teeth in theatre and television from leaving school. But Rebecca has always written with a huge focus on trying to put into music the emotions she's seen and experienced. Her work is eclectic. There is an undoubtedly strong theme of positivity and light running through the material.
"Music has always been a safe place, a world we can go to escape some of the crap life throws at us. There are some incredible artists out there in the industry and some great music. But there's always room for more. The music industry is very hard to break through, particularly if you're a British artist. But people who listen to music can be incredibly supportive and enthusiastic and that's a huge thing I'm so grateful for."
"Sure people tend to listen to different things depending on where in the world they are but our make up, our experiences don't actually differ that much and so many of us want to be moved, made happy, lifted. Music does that."
Debut release 'Hard Road' was written by Rebecca whilst on tour. The poignant lyrics; "I need my pillow and my bed and the arms of the one I love the most" go a long way to explaining the meaning behind the song.
"Hard Road is about that feeling that you get where you're tired and stressed or whatever and you just want to go home".
"touring and meeting people and making new fans of your music is an unreal, humbling feeling and a real high, but when the lights go down and the audience has gone home, that's when it's time for us guys to go back to normality too."
Rebecca has been touring up and down the UK and abroad. She headed over to Dubai last month to take her sound to the desert during a number of shows.
"The response out there was amazing."
"We've worked hard to merge sounds from all over the world in the music we're producing. I love the Arabian sound and find myself gravitating to that when I write a lot of material. Merging that with modern up to date technology and rock guitars is great fun."
"Undoubtedly the Internet has allowed people from all over the world to listen to music and experience new things. We have had such incredible support from all over the world and with the Internet and social media we can interact with fans and know how they are doing that minute. That is incredible when you think about it. We love playing gigs all over the world to play the stuff they've inspired and to show our appreciation for the support."