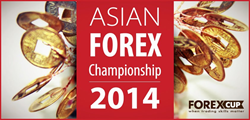 Win the coveted title of Best Asian Trader!
Auckland, New Zealand (PRWEB) April 29, 2014
The Asian Forex Championship 2014 will appeal to all who want to:

Get high rewards: The Championship prize fund is US$12,000, including US$3,000, US$1,800, and US$1,200 for the top three places, respectively. Besides the prizes, anyone can get real money bonus for profitable trading. (However, only residents of the Asian region are eligible for the main prizes.*)
Practice Forex trading: You have a chance to learn from other traders' experience and test your trading skills in a competitive environment.
Trade with no restrictions: You can use any of the 51 available currency pairs, EAs, and lock positions during the 8 weeks of competition.
Win the coveted title of Best Asian Trader: The main prizewinner will be awarded with the Champion of the 2014 competition.
"Even though the 2014 Asian Forex Championship is a regional contest and only residents of Asia may compete for the main prizes s and the title of Best Trader, anyone interested in participating in such a large-scale and challenging tournament is welcome to join and compete for bonuses," commented Denis Peganov, FXOpen NZ Limited Director. "The total bonus fund alone amounts to US$6,000!"
The regional Forex Championships have become a regular event. Skillful and promising traders in China, Russia, Ukraine and other countries have already been discovered. By holding the Asian Forex Championship, the company hopes to bring new talented traders to the global Forex community and continue the tradition of successful Championships.
ForexCup is a popular project of various Forex competitions held on demo accounts. Over the 3 years of its existence it has developed and grown into a venue of large-scale international tournaments such as Forex Championships renowned for their challenging spirit and high rewards. By participating in ForexCup contests, thousands of traders worldwide get a chance to gain their first experience in the FX market, improve their trading skills and make one more step towards professional trading.