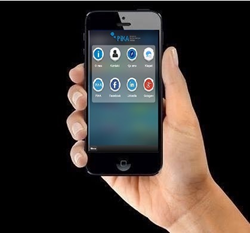 "It's amazing how the PiKA had really harnessed the power of mobile technology to service their clients and expand their network."
New York, NY (PRWEB) April 26, 2014
AppMakr, a leading DIY mobile app builder, today announced that the PiKA is the company's "App Of The Week" for April 6th-12th.
Each week, AppMakr features one app from the thousands published using our app building tool, called The Machine. This app was selected because it demonstrates the quality of content, design and relevancy that mobile apps can bring to groups trying to make a difference in their community.
With more than 1 Billion smartphones now active in the world, 84% of those users are spending at least 1 hr each day on their smartphones, the base on potential mobile users for PiKA is massive and growing quickly by the day. It was this potential that motivated AppMakr to create an easy drag-and-drop app builder platform that enables anyone to create an app like the PiKA app for free and without the knowledge of coding.
PiKA and thousands of small to large businesses, schools, blogs, sports teams and community groups have selected the AppMakr DIY app maker platform to create and launch their mobile app for Android, iPhone and over 5,000 different models of HTML5 compatible smartphones.
Pika uses various channels in various areas to give their clients the response that they want. What gives them edge over the other providers is their ability to offer a comprehensive communication solutions in one place. They also give a fresh creative approach through lessons learned from working on different environments.
With more than 10 years of experience in the field of communication and design, Pika believes that clients are their most important core value, so every project begins first with their clients' goals. They take care of their clients by taking time for them, listening to them, and identifying their needs; and as soon as the goal is defined, they start doing qualitative communication solutions.
To create your own mobile app, and have a chance at being named App Of The Week, go to http://www.appmakr.com/ and get started today.
About AppMakr
AppMakr, an organisation now part of Infinite Monkeys is a do-it-yourself app creation platform that lets anyone make your own Native iPhone apps, Android apps and HTML5 mobile websites —with no coding required With four pricing options (FREE, $1/month, $9/month, $99/one time fee). AppMakr provides a range of affordable marketing solution to all small businesses, schools, community groups and individuals alike according to their needs.
By servicing the long-tail of niche interests with free and low-cost apps, AppMakr has become the largest DIY publisher of mobile apps in the world.
To learn more about how AppMakr is transforming the Mobile App Economy, please visit http://www.appmakr.com and follow https://www.facebook.com/AppMakr on Facebook as well as https://twitter.com/AppMakr on Twitter.
About PiKA
Pika is strongly convinced that with a perfectly established communication (visual and verbal), they can make great changes. Due to their continuous education programme and flexibility, they know how to completely attract the attention of their clients' customers with a well thought-out campaign.
To download the PiKA app for your mobile phone, go to: http://apps.monk.ee/details.php?appid=100848787.
To learn more about PiKA please visit: http://www.kreativne-resitve.eu/index.php/sl/.