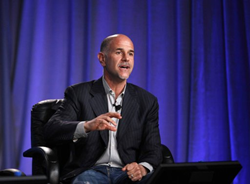 "I've served as moderator for the Milken Institute programs before, and this dynamic, thought-provoking program is unprecedented," Zappy said. "Cannabis Economy gives attendees a cutting edge vision of the business, legal, and social considerations."
Los Angeles, CA (PRWEB) April 28, 2014
(April 28, 2014) — It's a rare moment in business when an entire industry catalyzes almost overnight. The cannabis industry is going from suppressed and underground to a projected $49 billion annually in the next few years. Global Conference attendees include Fortune 500 CEO's, Nobel prize winners, and political leaders. According to Global Conference http://globalconference.org statistics, the 3,500 attendees control a combined $18 trillion dollars of assets under management. Held at the Beverly Hilton Wednesday, April 30, 2014, 11:15 AM - 12:15 PM, the panel is being moderated by Mike "Zappy" Zapolin, recognized as a key industry thought leader in the cannabis economy. His company, http://www.zappy.com, is focused on the life sciences opportunities including new medical applications and safe delivery. The remarkable line up of panelists includes top CEO's of publicly traded and privately held companies. These industry leaders focus in areas including botanical neutraceuticals, technology; along with medical marijuana industry experts. The Cannabis Economy segment is slated as a provocative conversation about the opportunities and social implications around the legalization of medical and recreational marijuana. Strong social concerns including youth access and highway safety are covered.
Zappy's notable industry expertise and his ability to stimulate discussions that blend the excitement of industry with the concerns of society and is a natural match for this group. "I've served as moderator for the Milken Institute programs before, and this dynamic, thought-provoking program is unprecedented," Zappy said. "It gives attendees a cutting edge vision of the business, legal, and social considerations." Zappy is now producing a documentary film titled "The Reality of Truth" with Deepak Chopra, another presenter at this year's Milken Global Conference.
Panel participants include:
Todd Denkin, CEO of DigiPath, A botanical neutraceutical industry company focused on education, testing, trademarking, standardization and development of intellectual property. Labeling practices are beginning to be required by governmental agencies, and DigiPath intends to position itself at the forefront.
Craig Ellins, CEO of GrowBlox Sciences (GBS) A company in the cannabis industry focused on the cutting edge technology of growing the safest, most reliable medical-grade cannabis. Patients and consumers want to know that the medicine an individual takes contains no negative elements. It needs to be as safe as it can be. GBS also produces oil and ingredients for others that make medical marijuana (MMJ) infused products. This creates consistent reliable results for distribution in 21 states.
Michael Kraft, Chairman of WeedMD RX A Canadian company that has received a "pre-approved" license from the government of Canada to grow for the medical industry. His company is presently setting up growing operations in a former Imperial Tobacco building. With the community behind them, they are bringing back vital jobs to the local area. Canada represents an extraordinary global exportation business opportunity that does not exist in the United States for the cannabis industry.
Panel Detail: The Highs - and Lows - of the Cannabis Economy
Is it just a matter of time before the onetime taboo of recreational marijuana use becomes socially acceptable--and widely legal? Policymakers are grappling with a shifting landscape as they weigh downsides, like youth susceptibility and highway dangers, against hefty financial gains for cash-strapped state governments. These realities are illustrated in Colorado and Washington, the first to unfetter personal consumption. Colorado alone projects $578.1 million a year in combined wholesale and retail pot sales, for a $67 million boost to tax coffers. Legitimizing underground markets also holds vast business and investment opportunities. Medicinal use, now legal in 20 states, already has spurred huge wink-and-nod industries. With medicinal sales projected to reach an estimated $6 billion in 2016, our panel will look at the emerging complexities: changing attitudes toward criminalization, conflicts between state and federal laws, dangers of abuse and the profit potential of a mainstream cannabis industry.
Speakers:
Todd Denkin, President, Digipath, Inc.
Craig Ellins, CEO and Chairman, GrowBLOX Sciences, Inc.
Michael Kraft, Chairman and Co-Founder, WeedMD RX Inc.
Doug Praw, Partner, Goodwin Procter LLP
Sue Rusche, President and CEO, National Families in Action, Inc.
Moderator: Mike Zapolin, CEO, Zappy, Inc.
##